Economist Predicts 'Tepid' Growth For Region in 2016
Wednesday, January 20, 2016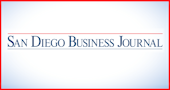 San Diego should prepare for a year of "tepid" growth, according to an economic forecast released Wednesday by the National University System Institute for Policy Research.
The group's chief economist, Kelly Cunningham, estimated the region will see annualized growth of 1.9 percent this year, a slight slowdown from estimated growth of 2.1 percent last year.
While high value technology-focused research and development and specialized manufacturing should help the region outperform the rest of the country, which has an expected 1.8 percent growth rate, Cunningham urged caution for the year ahead.
"Given the continuing dependence on tightening military and defense expenditures, only slowly improving tourism and local area consumption, and still recovering real estate and financial markets, San Diego will be fortunate to achieve a seventh consecutive year of 'real' positive economic momentum," Cunningham wrote.
California's economy is expected to grow 2.1 percent this year, according to the National University analysis.
Uncertainty in the global economy, expectations that the U.S. economy will further slow in the first half of this year, and weak consumer spending are driving some of San Diego's anticipated slow growth, Cunningham said.
Despite rising from about $68,000 to more than $70,000, median household income will still not have recovered to pre-recession levels by the end of the year. Sales haven't recovered fully either, with per capita real sales in San Diego lower than any year since 1997.
"Much of the sluggishness is attributed to debt overhang, cautious consumer spending and constrained income gains that continue to restrain local residents' ability and willingness to spend," Cunningham wrote.
San Diego should see the addition of 34,000 payroll jobs this year, improving its unemployment rate to 4.8 percent. The national unemployment rate is projected to hit 5.1 percent, and California's will be 5.8 percent, according to the report.