TECH: CLASSY'S SAAS HANDLES THE CASH AND HELPS ORGANIZE OPERATION
Platform Makes a Valuable Contribution to Nonprofit Efforts
Originally published January 14, 2016 at 11:55 a.m., updated January 14, 2016 at 11:55 a.m.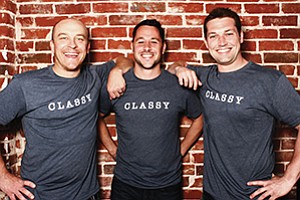 San Diego — Classy, an online fundraising platform for nonprofits, is moving from a peer-to-peer platform to a more comprehensive model that allows social impact organizations to run every aspect of their businesses more efficiently.
Scot Chisholm founded Classy in Pacific Beach in 2006 to raise money for the American Cancer Society in support of his mom, who at the time was battling breast cancer. He later partnered with dozens of organizations and helped them fundraise through events such as pub crawls and races.
"We'd say, 'we're committed to raising x amount for you' and we would go do it," Chisholm, 34, said. "We would pay them before we paid ourselves, even if that was a loss. So we were very committed to doing it. It wasn't really a business at that point. It wasn't a money-making venture; it was really to get young people involved."
In 2011, he phased out events to concentrate on the software as a service (SaaS) model, hosting an application for nonprofits online. The company started with a couple dozen organizations and now works with over 1,800 from every state, Canada and Australia. The company recently released an app on Salesforce AppExchange, integrating its online fundraising with Salesforce for nonprofits.
The Fee Structure
Classy makes money through a license fee and the nonprofit's success on the platform, represented by donation volume. The company offers a free plan with 5 percent of the donation or ticket sales going back to Classy. The most popular package is a $500-a-month plan with a 2 percent transaction fee.
Globally, crowdfunding grew in 2014, expanding by 167 percent to reach $16.2 billion, up from $6.1 billion in 2013, according to an industry report from Massolution. This report predicted the industry would double to $34.4 billion in 2015.
Classy developed an all-in-one fundraising and community mobilization tool that can help nonprofits raise money by streamlining the campaign launch process. Its revenue was north of $10 million at the end of 2015, Chisholm said.
Over 300,000 fundraising campaigns have used the Classy platform, with more than 1.5 million contributors. While Classy helps with online fundraising and crowdfunding, it also deals with email appeals, peer-to-peer fundraising, event ticketing and registration.
Classy creates a campaign for an organization within minutes and brands it uniquely for them. The platform matches sponsors, allows recurrent donations and specializes in helping nonprofits run more efficiently.
"We made a decision early on in our careers… [that] what we really know well, what we think the value that we can bring to the table is that we've done all these events and fundraisers with nonprofits and we understand the unique challenges that they're facing and so we're going to build tools or a set of tools that can really help alleviate those unique challenges and solve that problem," Chisholm said.
The largest campaign to date on the platform was Kony 2012, bringing in $4.5 million for Invisible Children, a nonprofit that worked to end the atrocities of the Lord's Resistance Army in Africa through awareness efforts.
By June 2015, Classy had raised $5 million from about 40 angel investors in the seed and Series A rounds and $18 million in Series B from angel reinvestments and venture investors, namely Salesforce Ventures, Bullpen Capital, Venture51, and Mithril, the newest lead investor.
Adding Organizational Value
Classy employs about 135 people and expanded from its F Street office into another office on G Street in 2015. The company's blog attracts almost 100,000 visitors monthly, according to Chisholm.
"We just keep really trying to push ourselves and try to raise the bar from a technology standpoint, round out the product, deepen it and continue to search for that organizational value that will help a nonprofit or social enterprise grow," Chisholm said.
Chisholm said 10 percent of giving is online right now, 10 years behind for-profit groups, and 57 percent of donors don't return the following year. Now, nonprofits have to get what Chisholm calls the force of ecommerce, millennials, to participate in online fundraising, especially as they will soon make up half the workforce.