WITH HALF OF HISPANICS UNDERBANKED, CREDIT UNIONS WORK TO BE MORE WELCOMING
A New Client Culture
Originally published January 14, 2016 at 12:15 p.m., updated January 14, 2016 at 12:15 p.m.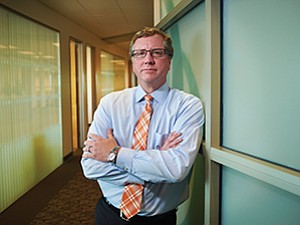 San Diego — Credit unions have an opportunity to make major inroads into the Hispanic community if they work to understand Hispanic culture and make it easier for first-generation immigrants to become members, a panel organized by federal regulators said.
The discussion came as credit union trade groups are pushing a nationwide certification program for lenders who consistently meet the needs of low-income Hispanics. Several San Diego credit unions are mulling applications.
The panel, hosted by the National Credit Union Administration (NCUA), included Miriam De Dios, the CEO of credit union consulting firm Coopera. There are 50 million Hispanics in the U.S. and more than half are underbanked or unbanked, she said, adding that the community is "thirsty for financial services" but is often unaware of potential lenders. Nonprofit credit unions, opposed to banks, are best positioned to offer their services, according to De Dios.
"That's the largest untapped market credit unions can reach," De Dios said in an interview. "The notion of belonging to the credit union as a member-owner resonates with this community."
But many credit unions are hesitant to change policies or cultures to better serve Hispanics, especially the recent immigrants who are most likely to be underbanked or unbanked, according to De Dios. Even though the NCUA has said that resident alien cards, or Matrícula Consulars, a form of identification issued by Mexican Consulates for Mexican nationals, are sufficient for membership, some credit unions do not accept them. This behavior can led Hispanic immigrants to turn to payday lenders, check cashers or pawn shops that are more accepting but far more costly.
"Having some bilingual staff or Spanish-language marketing won't attract the market long term if you can't open an account with a Mexican consulate card," De Dios said. "Don't just focus on the marketing or the product alone. If you don't create a welcoming environment, if you are just launching this product, it will be seen as not genuine at all."
Other NCUA tips included holding Spanish-language financial literacy classes and offering products tied to Hispanic traditions, such as quinceañeras and Mother's Day, which De Dios said is very popular in Mexico and involves large gifts. Some local credit union executives said they've been practicing this advice for years, a necessity for community-focused organizations in a region with a 28 percent Hispanic population.
Todd Lane, CEO of California Coast Credit Union, said his organization frequently partners with Hispanic groups, including MANA de San Diego, to build trust within the community. California Coast accepts foreign documents as ID and all but one branch has Spanish-speaking staff. About 23 percent of its members are Hispanic.
"The NCUA is talking to credit unions across the U.S. that don't deal with this like we do," Lane said. "It's part of our routine."
Mission Federal Credit Union formed a Hispanic advisory board earlier this year to help identify specific products it can offer to make itself more attractive. Like California Coast, it accepts foreign IDs and has many Spanish-speaking staff. About 26 percent of the credit union's members are Hispanic, with a projected 30 percent by 2025.
"We're exploring all the different ways we can be relevant to and be valued by the Hispanic market," said Neville Billimoria, chief advocacy officer and senior vice president for membership.
But while serving low-income immigrants is part of the credit union's social mission, Billimoria stressed there were non-trivial costs. If a conversation about a transaction begins in Spanish or stems from a Spanish-language document, the entire transaction must be conducted in Spanish due to federal regulations, according to Billimoria. That means the credit union must make sure every possible document has been properly translated
"Truth-in-lending language makes it difficult for us to actively reach out to this community without potentially flying in the face of some regulatory pressure," Billimoria said.
For about a decade, credit unions in Texas have sought the Juntos Avanzamos accreditation, Spanish for "Together We Advance," which recognizes lenders that accept foreign documents and follow other best practices for reaching Hispanics. The National Federation of Community Development Credit Unions rolled out the program nationwide this past fall, drawing 10 credit unions outside Texas and two in California. Both Mission Federal and California Coast said they were interested in seeking the designation.
SCE Federal Credit Union in El Monte was the first California credit union to receive the accreditation. Roughly 40 percent of its members are Hispanic, a number that increased substantially after it merged with a failing credit union in the almost entirely Hispanic Boyle Heights. Chief Operating Officer George Poitou said offering very small-value loans, less than $500, has been very effective at bringing in recent immigrants, who quickly refer others in the community.
"It doesn't take a financial guru to know a $500 loan at 10 percent won't pay our expenses, but we're banking on the future, the next loan," Poitou said. "From a strictly business perspective, it's the smart thing to do."