San Diego Business Journal Calls for Nominations for "CFO of the Year"
Wednesday, January 13, 2016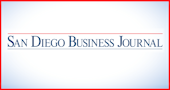 Nominations for the San Diego Business Journal's "2016 CFO of the Year Award" are open.
This will be the 10th annual signature program for CFOs and financial managers from across San Diego. These financial professionals will be honored for their fiscal leadership and diligent oversight of their organizations and their bottom lines.
A special awards reception is slated for Thursday, March 16, at Paradise Point Resort and Spa to acknowledge the winners and finalists. A special supplement highlighting the participants will publish on March 28.
Nominees will be judged in the categories of nonprofit organization, business nonprofit (e.g. credit union), education, government agency, privately held company and public company (publicly traded). An independent panel of judges will select honorees and winners. Nominations will close on Feb. 3.
The San Diego Business Journal joins with title sponsor California Bank & Trust, gold sponsors CBIZ/MHM and Robert Half, and in association with LEAD San Diego to present this popular recognition program.
Nominate or order tickets online at: http://www.sdbj.com/bizevents/