Abide Therapeutics Appoints Beals as Chief Medical Officer
Friday, January 8, 2016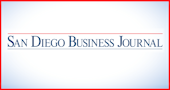 San Diego-based Abide Therapeutics announced the appointment of Dr. Chan Beals as chief medical officer.
Beals comes from Merck Research Laboratories Ventures, where he worked as Entrepreneur in Residence overseeing budding biotechs under Merck's wing. There, Beals was involved with all facets of search and evaluation, deal terms, building internal consensus for investments, and monitoring the progress of the startups, according to an Abide news release.
Before Merck Research Laboratories Ventures, Beals was vice president and head of Clinical Pharmacology and Experimental Therapeutics at Merck & Co, where he was responsible for managing both preclinical and clinical development of new therapeutics. During that time, Beals led 30 molecules into early clinical development, 11 of which made it to late stage clinical development, according to Abide.

The new appointment of chief medical officer is timely for Abide Therapeutics, which began enrollment of its first clinical study in July 2015. ABX-1431, an investigational endocannabinoid system modulator that may help treat multiple sclerosis, inflammation of nervous tissue, acute and chronic pain, agitation in Alzheimer's Disease and pain in irritable bowel syndrome. ABX-1431 is currently in Phase 1 clinical trials.