RETAIL: MILTON'S TARGETS HEALTH-CONSCIOUS CUSTOMERS WITH OFFERINGS
In the Cracker Business, Logistics Can't Be Half-Baked
Originally published January 7, 2016 at 12:43 p.m., updated January 7, 2016 at 12:43 p.m.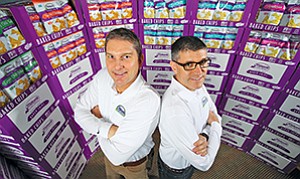 San Diego — Milton's Baking Co., a local gourmet cracker and bread company, has expanded distribution of its new gluten-free cracker line into over 6,000 stores nationwide.
It took 18 months to achieve this level of distribution, and the company's top executives credited its network of "co-packers" across the country that work with Milton's to make and deliver its product line.
In June 2014, the company placed its gluten-free crackers in Costco and Sprouts. Today, Milton's products can be found in Raley's, Gelson's, Safeway, Natural Grocers, Stater Bros., Whole Foods Market, and Wegmans, among others.
In a market full of cracker options — Wheat Thins, Triscuits, Ritz and specialty crackers galore — Milton's stands out with its gluten-free, non-GMO cracker offerings. Competitors in the gluten-free cracker realm include Crunchmaster, Mary's Gone Crackers, Van's, Glutino and Breton.
Demand for Non-GMO Snacks
John Reaves, Milton's president and CEO, said consumers are increasingly responding to snacks that provide greater transparency about the ingredients, with over 40 percent of households buying non-GMO snacks.
"Milton's crackers, chips and cookies align well with those consumer values," Reaves, 49, said.
The company sent out its first shipment of gluten-free baked chips in August 2015. The baked chips went into rotation in Costco in August and Sprouts in September and will continue to have ongoing placement in stores and grocers in the first quarter of this year.
"The challenge is to go to market and compete against large companies with sophisticated distribution networks," said Simon Kyne, 41, vice president of marketing and innovation for Milton's. "We deal with that challenge with high-quality execution and amazing tasting food."
The company works with multiple baking partners across the country to make and deliver their bread locally, as well as its other products of crackers and cookies. The company would not reveal how many baking partners it has nor its revenue.
With this network of "co-packers," the company can focus on its business model: a team-based approach to find the right people to work with, including key stakeholders and co-packers, and to manage quality across the supply chain.
"We balance the value to the customer and our costs to bring the consumer clean ingredients," Reaves said.
Delicatessen Start
Milton's began in 1995 when David Levy and Barry Robbins opened Milton's Restaurant and Delicatessen in Del Mar and began baking bread for its sandwiches. They soon found themselves in the bread-making business and later moved into gourmet crackers.
"Our purpose is to inspire people to experience the joy of eating well," Reaves said. "We think about it every day."
Milton's continued to expand into products along its niche, going from concept to initial distribution in eight months.
The company thrives off the strength of what it sees as its innovation: non-GMO quality, tasty gluten-free crackers, gluten-free cookies (released in September of 2014) and gluten-free baked chips. The gluten-free crackers and baked chips are multigrain, contain no high fructose corn syrup and no trans fats. They are also nut-free as well as certified vegetarian. The chips are baked, not fried. All of this distinguishes Milton's from others, according to Reaves.
"Retailers have so many innovations to choose from; you have to earn your space," he said.
The company launched its multigrain bread in 1997 and it is presently sold at Trader Joe's and Costcos in California, Costco Pacific Northwest, Sam's Club, among other major West Coast retailers.
In 2004, the company's gourmet cracker line (apart from the gluten-free line) launched and moved into Albertsons, Safeway, Walmart, Kroger (all divisions), ShopRite, Lucky/Save Mart, Tesco,
Raley's, Stater Bros., WinCo, Food Lion, Harris Teeter, The Fresh Market, Sprouts, Giant Eagle and Smart & Final. The gourmet crackers have been distributed to over 9,000 stores.
Social Media Feedback
Milton's Craft Bakers is focused on its current product lines for the foreseeable future. The company connects with its consumers using social media and often does giveaways, such as posting on its Facebook page that thousands of its gluten-free crackers were being given away to share with friends, family and loved ones. They sent out 5,000 bags across the U.S., U.K. and Mexico.
"Social media is a great opportunity to talk to consumers and get feedback, providing them with joy, and telling us how we can get better, but most importantly, validating that we're achieving our purpose," Reaves said.