FBI Honors Securing Our eCity With Director's Community Leadership Award
Thursday, February 11, 2016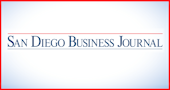 The FBI has named Securing Our eCity, the San Diego nonprofit devoted to cybersecurity awareness, as a 2015 recipient of its Director's Community Leadership Award.
FBI Director James Comey is scheduled to recognize the organization's executive director, Liz Fraumann, during a ceremony later this year in Washington, D.C.
The FBI praised the San Diego Mayor's Cyber Cup program — a cyber hacking contest for high school students — as one of the more creative events that Securing Our eCity sponsors. Finals for this year's Mayor's Cyber Cup are set for April 2.
The FBI established its awards program to honor individuals and organizations for efforts to combat crime, terrorism, drugs and violence in America. Each of the FBI's 56 field offices nominates individuals or organizations for the award.
Fraumann participated in the San Diego FBI Citizen's Academy in 2015. She received the award from Special Agent in Charge Eric Birnbaum Jan. 26 at the FBI's Sorrento Valley office.
Separately, Securing Our eCity announced in late January that it would help form a statewide Cyber Cup competition for high school-age students. Several partners, including the governor's office, the Los Angeles Unified School District, the Cyber Center of Excellence and CyberTECH plan to launch the statewide competition in the spring of 2017.