PROPERTY: H.G. FENTON PLANS ADDITIONAL FACILITIES
Co. Tests the Waters With Brewery Igniter
Originally published February 4, 2016 at 12:26 p.m., updated February 4, 2016 at 12:26 p.m.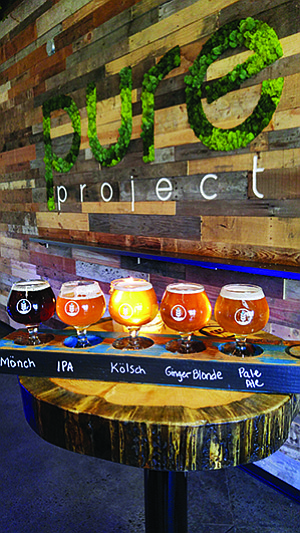 San Diego — Thanks to the newly opened microbrewer's unusual space arrangements in Miramar, co-founder Mat Robar estimates that his eco-themed Pure Project has saved a lot of green in startup costs — at least $100,000 — and shaved six to 12 months off the traditional launch timetable for a craft beer maker.
The brewer recently debuted as the first tenant at property owner H.G. Fenton Co.'s incubatorlike industrial facility on Kenamar Drive, known as Brewery Igniter, taking one of two adjoining 1,625-square-foot spaces in a building that also houses a Fenton-installed, seven-barrel brewing system and related tasting-room infrastructure for its tenants.
"There are several advantages from our point of view," said Robar. "In the beginning, you can get to market much faster because they (Fenton) have already taken care of the permitting and build-out portion of the brewery. Not to mention the lead and installation times on the equipment."
Minimizing Upfront Costs
Observers say the concept is relatively new — both locally and nationally — for the burgeoning craft beer industry. H.G. Fenton officials emphasize that the company's igniter facility is not a full-service incubator, like those serving early-stage technology companies, but has elements that could help startup brewery tenants significantly minimize upfront costs for capital, construction risk and related issues.
The property owner invests in the initial equipment and site improvements, and also in the utility upgrade costs to get services such as gas, water and electricity up to standards required for beer production.
Fenton is not disclosing its own investment costs or the exact terms of leases, the latter of which are a matter of negotiations with individual tenants. But Fenton executives note that it is not unusual for craft beer startups to run up $500,000 to $600,000 in site preparation, equipment purchase and other pre-production costs over just a few months, with no guarantee that required state licenses will be approved by the time the brewer completes those investments.
"You could run into all kinds of things you didn't expect when you're preparing the space, and end up spending thousands of dollars," said Jacqueline Olivier, a commercial property manager with H.G. Fenton, which owns several industrial, office and multifamily properties throughout San Diego County.
Outgrowing the Space
Robar said minimizing the upfront capital outlay is crucial for startup brewers like Pure Project, which opened in late January with 12 brews at its new Miramar headquarters and tasting room — six months after first leasing the space — employing a staff of five to seven in its early weeks.
"As you grow, you have flexibility to either remain in the space or choose to expand outside after your lease term is up," he said. "In terms of growth, not having to spend that large chunk of capital on the initial brewing system is key, because if you are doing a good job, you can often expect to outgrow that system within a year or two."
At the Miramar site, Olivier said Pure Project will soon be joined in the adjacent space by craft brewer Amplified Ale Works, which is in the process of expanding production from its original facilities in Pacific Beach.
H.G. Fenton is currently in talks with potential tenants to occupy another Brewery Igniter that it is setting up on El Cajon Boulevard in North Park, which will have three adjoining spaces, each with 2,000 square feet of space and a 10-barrel brewing system. Another similar facility is in the works for Carlsbad, with location, size and other elements still being finalized.
Olivier said Fenton officials will evaluate the performance of those current locations over the coming year or so and then decide whether to extend the concept to any of its other industrial properties. "It's a matter of gauging the demand," she said. "If the demand is there, I'm sure we could pursue more of these."
Jury Is Still Out
Local commercial brokers who have each handled numerous landlord-tenant transactions in the craft beer industry during the past 20 years said the jury remains out on whether the igniter arrangement will be a financial success for all parties, and whether the concept might be replicated by other property owners in the region.
Dave Pinnegar, senior vice president with Colliers International, said he's not surprised that the concept is being put forward by H.G. Fenton, which has generally been innovative with its commercial space offerings over the years. The startup cost savings could be helpful to microbrewers that otherwise don't have access to significant investment funding from lenders, friends or family members.
However, startup costs are just one element impacting a brewer's success, as those operators must also tend to quality-control, branding, distribution and numerous other key matters.
"Brewers will need to have the passion to succeed in the long term, because this is an industry where you have to be a true believer," said Pinnegar, whose past clients have included Stone Brewing Co., among other craft beer makers. "Fortunately, the beer community in San Diego County is generally very welcoming."
On the National Scene
Todd Davis, senior vice president with Kidder Mathews, said there is currently a smattering of incubatorlike facilities now operating, primarily in the eastern U.S., but those are geared mostly to providing shared brewing facilities to established companies seeking to expand production.
However, he said there is at least one facility, called BrewHub in Florida, which offers an array of services geared to earlier-stage companies, including legal and financial advice, access to industry contacts, and assistance in analyzing and identifying potential distribution markets. Operators of BrewHub are looking to extend the concept to other U.S. regions.
"I've been getting a lot of queries from landlords about this concept," said Davis, who has represented building owners and several beer clients over the years, including Stone, Lost Abbey, and Pizza Port Brewing Co.
However, he said landlords looking to partner with brewers will need to weigh several factors, including liability, maintenance and other issues that come with having beer-makers and sellers as tenants. As San Diego County's beer industry continues to evolve, Davis said brokers, property owners and craft brewers will all be watching to see how Fenton's arrangements turn out.
"It's been a learning curve," Davis said. "Some landlords are very comfortable with brewery tenants at this point, and some are not."