Becton, Dickinson to Grow Presence in Region
Wednesday, February 3, 2016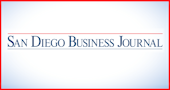 After gobbling up San Diego's CareFusion in a $12.2 billion deal last year, global medical equipment supplier Becton, Dickinson and Co. has decided to maintain (even grow) its presence in San Diego.
The announcement was made by Mayor Kevin Faulconer and the San Diego Regional Economic Development Council and was considered a triumph for the city.
Becton, Dickinson and Co. (BD) has a presence in more than 80 countries, but the largest concentration of employees is here in San Diego where the company employs more than 3,000 people.
"San Diego is home to more BD associates than any other city in the world," said Bill Kozy, executive vice president and chief operating officer of BD, in a statement. "The region not only offers a great place for associates to live, but it is also home to world-class health care facilities, great universities and many innovative companies that create a highly educated talent pool and opportunities for unique collaborations."
The company will maintain its manufacturing capabilities in the San Diego region, according to a news release by the City of San Diego. BD also disclosed its plans to tap into San Diego's "strong medical device and engineering talent" to create a new "global center for health informatics" on its Torrey View campus. BD did not respond to requests for details on the new center, or any other expansions in the region.
Since BD announced its acquisition of CareFusion in early 2015, the City of San Diego and San Diego Regional EDC have been working with BD to ensure that the company maintains its presence in the region.
"Anytime there is an outside acquisition of a local company from another company or private equity firm, it's always a concern – in any region – that this could mean a consolidation of jobs and resources," said Sarah Lubeck, a spokesperson for the EDC, in an email. "When it comes to economic development, we talk a lot about attracting jobs but we really don't focus enough on retention. We usually only hear about it if it becomes a story about a company leaving town."
Lubeck says research from the Brookings Institution, an EDC partner, shows that 98 percent of economic growth comes from growing businesses that are already here.
"Mergers are part of that process, and can often be a good thing," Lubeck said. "Now, the largest medication management company in the world has a presence in San Diego and will be building its global center for health informatics in the region because of the ecosystem and talent here."