Rents to Continue Climbing in 2017, Report Finds
Thursday, December 29, 2016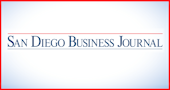 Apartment vacancies will continue to decline and rents will keep rising in the San Diego area in 2017, real estate research and advisory firm Berkadia predicted in a new report.
The company said demand for rentals will be driven higher by the U.S. Navy's sharpening focus on the Pacific region and a hiring surge resulting from construction of hotels and other projects.
Some 4,140 multifamily residential units will come online in 2017, with development concentrated in the downtown submarket, Berkadia said. It added that apartment vacancies will nevertheless rise one-tenth of a percent between December 2016 and December 2017 to reach a 17-year low of 3.8 percent.
"Operators will take advantage of the demand by accelerating annual rent growth to 5.8 percent this year after increasing rent 5.4 percent in 2016," Berkadia stated in a preview released in December.
It said average asking rents will reach $2,059 per month in December 2017, up from $1,947 in December 2016.