Three Local EvoNexus Startups to Exhibit at CES
Wednesday, December 28, 2016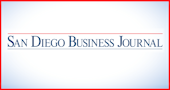 Three La Jolla-based startups housed at the technology incubator EvoNexus are schedued to show off their products at the Consumer Electronics Show in Las Vegas.
Aira, Ossic and Appulse Power will display their technologies and offer interactive demonstrations at the world's biggest consumer technology event, which starts Jan. 5.
Aira's platform connects people who are blind or have low vision to "certified virtual agents" through smartphones and wearable devices to assist with everyday navigation.
Ossic makes headphones that provide "fully immersive sound" by calibrating to the person wearing them while tracking their head movements.
Appulse Power develops customized AC/DC power conversion and power control solutions for the emerging Internet of Things, smart-energy markets and consumer electronics such as laptops.
Aira and Ossic have already received CES awards in their respective categories. Aira was named among the winners of the Eureka Park Accessibility Contest, which recognizes new technologies impacting the lives of seniors and people with disabilities. OSSIC was awarded a Best of Innovation Award in the headphone category for its 3D audio headphones.
Another company in the EvoNexus portfolio, TinyKicks, will also be at CES. The startup, which is based in the incubator's Irvine office, makes wearables for expecting mothers that detect and monitor fetal movements.
EvoNexus has two offices in San Diego County – one in downtown and another in La Jolla - and one office in Orange County, in Irvine.