ViaSat, Boeing Begin Design of ViaSat-3 Satellites in Earnest
Wednesday, December 21, 2016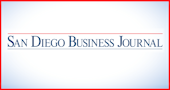 ViaSat Inc. said its first two ViaSat-3 satellites have completed their first important step toward production and launch — a stage in the process called preliminary design review.
The event happened on Nov. 19. Carlsbad-based ViaSat (Nasdaq: VSAT) waited more than a month to announce it on Dec. 19.
ViaSat plans a constellation of three ViaSat-3 satellites, which will offer broadband services to consumers, airlines and other businesses, large and small. One will serve the Americas; a second will serve Europe, the Middle East and Africa; and a third will serve the Asia Pacific region. Its partner in the project is satellite-builder Boeing Co.
Each satellite is expected to deliver more than 1 terabit per second of network capacity, directing that capacity to the geographical region where customers need it.
November's preliminary design review is "the first critical milestone toward confirming the ViaSat-3 satellites will satisfy performance specifications and requirements when operating on orbit," ViaSat said in a statement. "Completion of this step allows ViaSat and Boeing to begin detailed design work on each satellite."
The first flight hardware for ViaSat-3 is scheduled to arrive in ViaSat's Tempe, Ariz., satellite integration facility in late 2017, ViaSat said. Launch of the first ViaSat-3 class satellite is set for 2019.
The satellites are being built on the Boeing (NYSE: BA) model 702 satellite platform.
For each ViaSat-3 class satellite, ViaSat will build the satellite payload, integrate the payload into the Boeing payload module and test the integrated payload. Boeing will provide system integration and test, launch vehicle integration and mission operations services.
In the near term, ViaSat is looking at another project. It plans to launch its ViaSat-2 satellite in March or April. ViaSat-2 is expected to offer high-speed broadband coverage to the Lower 48 states, Mexico, most of Canada and the North Atlantic.