Los Angeles Firm Buys Downtown's Emerald Plaza for $91.7 Million
Wednesday, December 21, 2016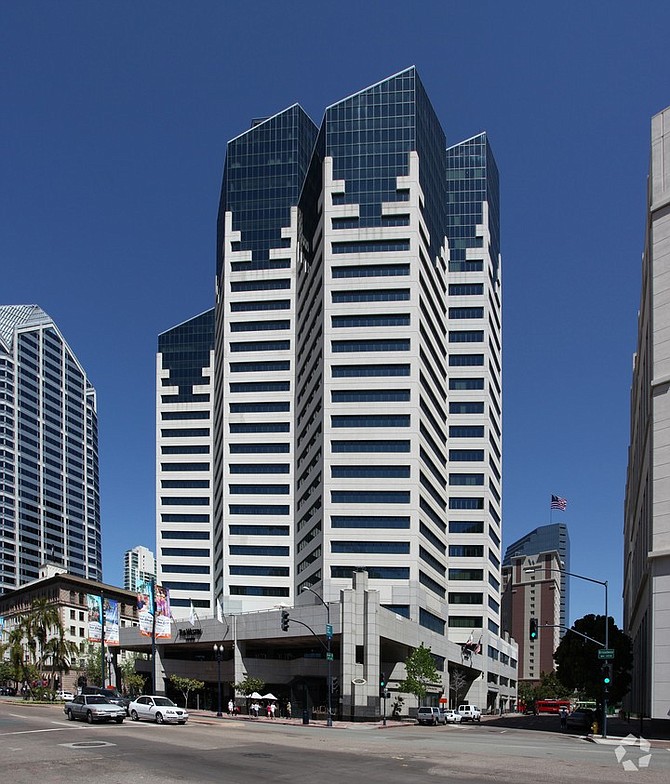 Kearny Real Estate Co. of Los Angeles has purchased downtown San Diego's Emerald Plaza office tower for approximately $91.7 million, the company announced.
The seller of the 30-story, 364,000-square-foot property, at 402 W. Broadway, was a U.S. affiliate of Germany's Deutsche Bank. The deal did not include the 436-room Westin hotel that is connected to the office component of the complex.
Known for its distinctive hexagonal towers with angled rooftops that light up in green at night, Emerald Plaza was built at a cost of $150 million in 1990 by local developer Sandor Shapery. It was among downtown's first mixed-use developments.
The property occupies a full city block and had been owned by Deutsche Bank since 2005. According to CoStar Group, the office tower was approximately 72 percent occupied at the time of the sale, with more than 100 tenants including Regus, law firm Greenspoon Marder P.A. and engineering firm CH2M Hill Inc.
In a statement, Kearny Real Estate officials said the deal marked the largest San Diego acquisition for the company, which already owned several commercial properties in the local market. Kearny recently completed an extensive renovation of its Mission Center Office Park in Mission Valley, and earlier this year sold its Five Thirty B office tower in downtown San Diego, following a significant renovation and repositioning.
The seller in the Emerald Plaza deal was represented by a team at Holliday Fenoglio Fowler (HFF), led by Ryan Gallagher, Nick Psyllos, Nick Frasco and Michael Leggett. Future leasing will be handled by Ryan Grant, Matt Carlson and Jeff Oesterblad of CBRE Group Inc.
The Emerald Plaza deal followed the sale of at least five other big downtown towers during the past year. Other deals of 2016 included the $122 million acquisition of the downtown tower at 525 B St. by La Salle Investment Management; the $53.2 million purchase of the tower at 530 B St. by Bosa Development; the $55 million purchase of the building at 610 W. Ash St. by Gemini Rosemont LLC; and the $54.4 million acquisition of the tower at 1010 Second Ave. by Hammer Ventures.
Also recently, Cisterra Development acquired the former Sempra Energy tower at 101 Ash St. from Shapery Enterprises and Manchester Financial Group, for $72.5 million. Cisterra will lease and eventually sell the Ash Street building to the city of San Diego for government offices.