DEVELOPMENT: CENTER TO GIVE AREA KEY ACADEMIC TIE
Downtown Successfully Recruits UC San Diego
Originally published December 21, 2016 at 12:25 p.m., updated December 21, 2016 at 12:25 p.m.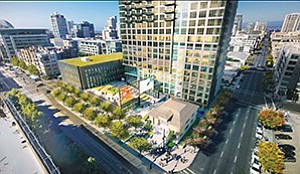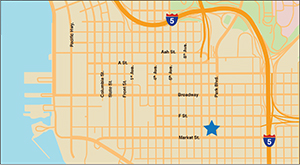 San Diego — Plans by the University of California, San Diego for a new cultural and education center in downtown's East Village were warmly greeted by urban designers, architects, civic advocates and others who had fretted earlier this year about the future of the fast-growing neighborhood, recently eyed for a new football stadium with convention facilities.
The stadium's future remains uncertain, along with the San Diego Chargers' next move after the November defeat of a hotel tax hike intended to finance the so-called "convadium."
But among the upshots of the university's announced plans for a $42 million downtown outpost was renewed hope that the city can jump-start long-stalled plans to turn East Village into a job-creating engine for commerce, education and innovation.
"I cannot overstate how important this is, to have this kind of a project by this kind of an institution at that location," said David Malmuth, principal in the development firm IDEA Partners and a longtime leader of efforts to turn the northeast portion of East Village into a hub for innovation, design, education and the arts — aka the I.D.E.A. District.
Creating a Hub
By late 2020 or early 2021, the university's Extension arm plans to open a 66,000-square-foot "Innovative Cultural and Education Hub," within a larger, $277 million mixed-use project being built by developer Holland Partner Group at the northwest corner of Park Boulevard and Market Street.
The location of the full-block project, on city-owned land being sold to the developer for $12.3 million, is the intersection considered by local planners as the geographic center of East Village, close to mass transit and several new apartments, parks and other projects being built by several developers.
Its neighbors will also include several educational entities with operations there, including San Diego City College, NewSchool of Architecture and other charter, private and public institutions.
What the area has lacked, said observers, is a significant university presence to create daily interaction and bring together all of the business, civic and educational interests for a vision of how to create a vibrant economic hub. Malmuth noted that before the UCSD announcement, San Diego was the sole city among the nation's 35 largest that did not have some kind of major university presence in its downtown core.
Fielding the Right Players
The hope now among observers is that East Village has the catalyst to create significant economic growth — along the lines of Torrey Pines' life science cluster or Sorrento Mesa's technology hub — by encouraging other large corporate, education, research and other entities to locate there in the long run.
"We've been trying to do this for so many years, but we couldn't get the right players in there," Malmuth said. "There were people trying to bring in Qualcomm Inc., and bring in other companies, but they couldn't figure it out."
At a recent San Diego City Council meeting, where the mixed-use project known as Park & Market was unanimously approved, Kris Michell, CEO of the Downtown San Diego Partnership, said UCSD's announcement of its upcoming center culminated more than three years of work by civic and education leaders to bring the university downtown.
East Village developers and business advocates are attempting to serve workers, particularly millennial-age residents, who prefer to live in urban cores with walk-friendly amenities and ready access to public transportation. However, employment opportunities for workers in technology and other growing industries remain limited in downtown San Diego, where most residents commute northward to their jobs.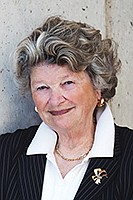 Not a Branch of the Campus
Mary Walshok, dean of UCSD's Extension division, said the East Village location's close proximity to a Blue Line station of the San Diego Trolley was a key selling point. By the time its new education center opens around early 2021, the Blue Line is expected to reach the university's main La Jolla campus, as part of the larger $2 billion Mid-Coast Trolley extension project that recently started construction, overseen by regional planners.
That extension will help fulfill a longtime goal of making university programs available to residents throughout the city, including those living downtown and in adjacent neighborhoods such as Barrio Logan, Golden Hill and others in southeastern San Diego.
"Suddenly there's going to be a transportation backbone that has not been available previously for our students or for our own employees," said Walshok, who is also UC San Diego's associate vice chancellor for public programs.
Walshok emphasized that the new center will not be a branch campus of UC San Diego. Instead, it will be a center for interaction and connection with the local business startup and incubator community, bringing students and other residents together with decision-makers in business, education and government.
It will supplement programs of the Collaboratory for Downtown Innovation, announced earlier this year by UCSD Extension and the Downtown Partnership, geared to assisting entrepreneurs and others involved in tech-oriented industries, although the new center itself will not be focused on one particular sector of the economy.
At Park & Market, UCSD will be surrounded by other elements being built by Vancouver, Wash.-based Holland Partner Group, including more than 400 apartments, 14,000 square feet of retail and more than 5,000 square feet of open space — the latter of which may incorporate elements of Quartyard, a popular temporary social and event space that currently sits on the development site.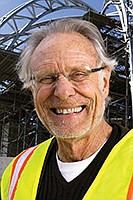 Outreach Programs
UC San Diego will be purchasing a full office building in the project from Holland, and the university expects to begin work on its new center by late 2017, after designs are finalized. Plans so far include a 3,000-square-foot restaurant on the building's ground floor, with an outdoor amphitheater and other spaces for arts events and exhibits.
The center will house UCSD academic and outreach programs for middle and high school students from surrounding communities, and also offer business incubation and entrepreneurship resources, courses and workshops.
Officials said no state funds will be used for construction, with funding for setup and operations to come from a combination of program underwriting, service contracts and grants, and revenue from the rental of event and retail spaces.
Among those cheering the news about the UCSD center was longtime local architect Rob Quigley, who heads the San Diego-based firm Rob Wellington
Quigley. Like Malmuth, Quigley was among dozens of local designers and architects who formed a group informally known as "East Village People," which opposed plans by the Chargers to convert the southeastern portion of the neighborhood into a stadium site.
Missing Piece in Place
The group also advocated for an alternative vision for that area — generally east of Park Boulevard and south of Market Street — stemming from a vision put forth more than a decade ago by city planners, well before that location was eyed for a stadium. Quigley himself drew up concept designs for a cluster that could include 4.5 million square feet of development, including offices, apartments, parks, retail and community meeting spaces, though that process has yet to result in a formal development project proposal.
If that portion of East Village does not ultimately house a stadium, Quigley said the university center could help take the neighborhood in a more desired direction. "The missing piece is now in place," Quigley said. "Great cities include great universities at their urban core."
Some council members apparently agreed. "It's nice to be talking about this kind of project at the site instead of a stadium," said City Council member David Alvarez, at the meeting where Park & Market was approved. "It's a much better use of the space."