San Diego to Get Some of Undersea Vehicle Work From Navy Contract
Sunday, December 18, 2016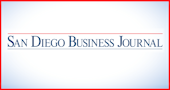 The U.S. Navy awarded Metron Inc. a contract for a project called advanced autonomy for undersea vehicles.
Some $4 million of the work will be performed in San Diego through early 2020. The bulk of the work will be performed on the East Coast. The deal could be worth as much as $33.9 million if the Navy exercises all options to the contract.
The Office of Naval Research in Washington, D.C. awarded the deal. According to a Pentagon announcement from Dec. 14, researchers on the project will work "to advance the science of unmanned systems through design, implementation and testing of software to accomplish advanced autonomy goals, as well as to design and integrate government-provided hardware to demonstrate other emerging autonomy capabilities in a number of military missions."
Autonomous unmanned systems require little human intervention to perform their tasks.
Metron is a scientific consulting company based in Reston, Va., near Washington. Thomas Corwin is its president and CEO.