Cubic Awarded $7.6M Transit Contract in Australia
Sunday, December 18, 2016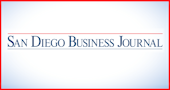 Cubic Corp. said its transportation business won a $7.6 million contract to deliver a trial of "open loop" payments ticketing technology for the mass transit system in Sydney, Australia.
The system will allow commuters to pay transit fares with their credit cards. Beginning in 2017, a Sydney-area commuter will be able to tap a contactless bank card directly on an Opal reader at the trial site to pay for travel.
Transport for New South Wales awarded the deal, which Cubic (NYSE: CUB) announced on Dec. 16. Technology for Cubic's London and Chicago fare collection systems will be applied in the Sydney trial.
Cubic Transportation Systems brings in 40 percent of Kearny Mesa-based Cubic Corp.'s revenue. The $1.46 billion corporation is also a defense contractor.