Alphatec Spine Appoints CEO, Two Other Execs
Tuesday, December 13, 2016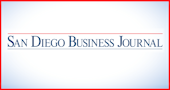 Carlsbad-based Alphatec Spine Inc., a medical device company making spinal fusion technology, has appointed a new chief executive officer and two other senior leaders with plans to fuel sales.
The company appointed Terry M. Rich as the company's new chief executive officer, replacing Leslie H. Cross, who has served as the company's interim CEO since September.
Rich comes from medical device maker Wright Medical Group, where he served as president of the upper extremities department. Before that, Rich worked in senior sales leadership at San Diego's medical device maker NuVasive Inc. and DePuy Synthes Spine.
"Terry's deep experience in the U.S. spine and orthopedics markets and his demonstrated history as an executive leader make him ideally suited for the CEO position," Chairman Tim Berkowitz said in a statement.
Along with the new CEO, Alphatec Spine has expanded its commercial leadership team with two new additions (both filling newly created roles).
Jon Allen is the company's new executive vice president of commercial operations, and Amy Ables is the company's new vice president of corporate education and performance.
The idea is to build up Alphatec's sales leadership to boost revenue, the company said in a statement.
The trio all used to work for Tornier N.V., a medical device company that was acquired by Wright Medical Group in 2015 in a deal worth $3.3 billion.
"Together, Terry, Jon and Amy were senior executives at Tornier and were instrumental in repositioning Tornier's U.S. commercial business and positioning the company for a successful merger with Wright Medical in 2015," Berkowitz said in a statement. "Their combined experience and exceptional leadership will be invaluable as we move to unlock the potential of our product portfolio across the U.S. spine market."
Alphatec Holdings, the parent company of Alphatec Spine, is a public company in Carlsbad with a market cap of about $35 million.