Efficient Market Advisors LLC Hits $1B Milestone
Friday, December 9, 2016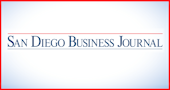 San Diego-based firm Efficient Market Advisors LLC said it now directly or indirectly invests more than $1 billion on behalf of investor clients and their financial advisors through its investment portfolios of exchange traded funds.
The milestone comes as more than 450 U.S.-based financial advisors have chosen to allocate their client's assets to EMA's proprietary ETF strategies, the firm said in a statement Dec. 9.
Herb Morgan, EMA's founder, CEO and chief investment officer, said the company's investment policy committee emphasizes a strategic, tactical and opportunistic investment approach.

"We are traditional top-down macroeconomic-oriented investors who have never been enticed by black-box quantitative strategies," he said.
When the company was founded in 2004, "our goal was to replicate the institutional consultant process of investing for retail investors through the use of ETFs," Morgan said. "The ETF was a transformative financial product that made this possible."