Here's A Sneak Peek into Cox's Latest Fiber Optic Technology
Originally published December 7, 2016 at 4:49 p.m., updated December 7, 2016 at 4:49 p.m.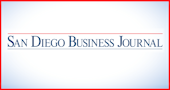 San Diego — What does it mean when you say technology is state of the art? As time passes, that definition morphs into something new. Research, ingenuity and capital investment (by both individuals and governments) spur technology forward. Things get faster. Cheaper. And we hope, better.
Cox Communications Inc. recently showed me what state-of-the-art is all about, at least in 2016. The business let me have a peek inside the locked gates of its telecom nerve center at Federal Boulevard and Euclid Avenue, showing me how their fiber optic network has enough capacity to give customers access to their choice of streaming movies, even on a busy Saturday night.
Fiber optic technology called dense wave division multiplexing now lets carriers such as Cox transmit many different signals over the same strand of fiber. By using different wavelengths of light, Cox divides that fiber strand into more than 40 channels.
Actually, it's not the light-conducting optical fibers that place limits on the system, operations chief Dennis Morgan and video manager Robert Lonn told me. It's the equipment at the ends of the fibers.
Morgan and Lonn showed me redundant systems and backup equipment. In case the power goes out, Cox has electrical generators with a week's worth of fuel. There is also a fuel cell that makes electricity using hydrogen.
Cox Business recently built out 54 miles of fiber to connect 92 schools in the San Diego Unified School District. The business now delivers high-speed (175 gigabit per second) internet access to 189 schools. Financial terms of the recent deal were not immediately available. Cox also serves the U.S. Navy and the Poway Business Park.
Cox Business has been "our growth engine," said Sam Attisha, Cox's top local executive. Cox Communications is part of Atlanta-based Cox Enterprises, a family-owned business with 50,000 employees and $17 billion in revenue. Cox has 1,800 employees in California. The company declined to give me local revenue numbers.
• • •
Shares Sold: One benefit to being in charge of a big public company is ownership — specifically stock. A recent transaction piqued my interest. Qualcomm Inc. reported that President Derek Aberle sold about $1 million of Qualcomm (Nasdaq: QCOM) common stock beginning on Nov. 30. According to a Dec. 1 securities filing, Aberle disposed of 14,990 shares at $66.69 apiece. He continues to own 17,000 shares. I admit I don't look at SEC Form 4s regularly, but this transaction seemed bigger than most. Is such compensation deserved? Ask a Qualcomm shareholder. You could argue that Aberle has a tough job as the top lawyer overseeing Qualcomm's licensing efforts, especially in challenging overseas markets, as he defends licensing agreements and makes sure Qualcomm gets the billions it is owed.
• • •
Seeing Green: In addition to selling your Christmas gifts and delivering your groceries, Amazon.com Inc. (Nasdaq: AMZN) operates computer services in the cloud. An Amazon Web Services initiative called Greengrass will provide computing for the Internet of things, putting resources on the edge of the network for those times the cloud is not available. Qualcomm said Nov. 30 that it's going to support Greengrass, promising more details later.
• • •
Robot Notes: Pilot Laboratories, a Chinese company with a San Diego outpost, said it will display its Moorebot robotic personal assistant at CES, the big consumer electronics show in Las Vegas on Jan. 5-8. Moorebot is essentially a big eye — containing a camera — on a pedestal standing 6 inches tall. It has an eyelid and is able to mimic emotions. The Moorebot can react to voices and is programmable. The project raised $99,800 in an IndieGoGo campaign earlier this year.
On another note, CHiP, the robot dog that I wrote about in August, was selling for $146 on Amazon on Dec. 5, marked down from $200. WowWee, with offices in La Jolla, makes the product.
• • •
Widening Horizons With Tech: Aira (pronounced EYE-ra) is a San Diego company that offers a technology-based service for blind people as well as people with limited eyesight. It pairs them up with agents who help them navigate through the world, with the help of a wireless camera and wireless communications. The business is one of five winners of the Eureka Park Accessibility Contest and will be part of the contest exhibit at CES, the Consumer Technology Association Foundation announced recently. Aira is part of the EvoNexus incubator.
• • •
Hearing the Buzz: There is no sting, but the drone is incessant. The Hornet's Nest is 2,500 square feet of space where people will be able to experiment with quadcopters and other hobbyist-sized unmanned aircraft. The test area at Coleman University on Balboa Avenue is run by the Electric and Networked Vehicle Institute (aka ENVI). An informal kick-off event was planned for Dec. 7; a formal grand opening is planned for January. Jim Burns, whose day job is at Poway electric vehicle innovator TransPower, is a founding director of ENVI.
• • •
Stepping Up for STEM: Nordson Corp. presented MiraCosta College with a $150,000 grant to develop a STEM Academic Support Center in the library of the college's Oceanside campus. STEM stands for science, technology, engineering and mathematics. College officials said construction will begin in June and the center will be ready for the new academic year in September. Nordson (Nasdaq: NDSN), based in Ohio, makes machines for electronic-equipment assembly lines. It has been expanding its Carlsbad plant.
Send San Diego technology news to bradg@sdbj.com.