VENUE: UPGRADES KEEP FACILITY FRESH, RELEVANT
Casino Center Discovers Secret to Longevity
Originally published December 7, 2016 at 4:34 p.m., updated December 7, 2016 at 4:34 p.m.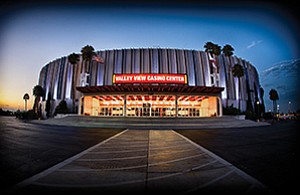 San Diego — The Valley View Casino Center — formerly the San Diego Sports Arena — is seemingly immune to the passage of time.
General Manager Ernie Hahn said the secret to the facility's longevity is an ongoing effort to keep it up to date. He noted that 2015 was the facility's best financial year since he and his family became involved with it in 1992. This year is expected to be even more profitable.
"You have to give people a 2016 experience in a building that was built in 1966," Hahn said. "It can be done."
The facility opened on Nov. 17, 1966. Long before anyone ever heard of the Sleep Train Amphitheatre in Chula Vista or the Viejas Arena at San Diego State University, the San Diego Sports Arena in the Midway District was hosting a wide range of sports and entertainment events.
A Venue for Legends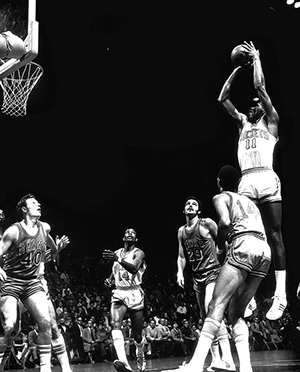 Sports legends such as Muhammad Ali competed there. San Diegans also were introduced to such entertainment giants as Elvis Presley, Neil Diamond, and Frank Sinatra. Hahn anticipates more years of success, though he envisions the creation of a new arena one day in downtown San Diego.
Though he envisions the creation of a new arena one day in downtown San Diego.
Hahn has been compared with a plastic surgeon for overseeing a series of improvements that have kept the 50-year-old facility a popular attraction. The center is home to the San Diego Gulls and the San Diego Sockers. Hahn says it hosts about 140 events per year, generating about 700,000 visits.
Approximately 50 days each year are devoted to sporting events. Approximately 35 to 40 days are set aside for concerts. Between 30 and 40 days per year are devoted to family shows and other events.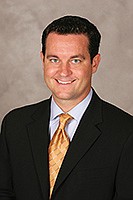 Matt Savant, president of business operations at the San Diego Gulls Hockey Club, said the building compares well with the newer facilities the Gulls use when they travel to compete with other teams.
"They have done a good job of upgrading it," he said. "They have done a good job keeping the facility technologically relevant."
Shrewd Business Practices
Hahn's company, Arena Group 2000, acquired a leasehold interest in the former Sports Arena in November 1992, he said. The company adopted a business model that called for keeping the aging building up to date. In addition to attracting entertainment and sporting events, upgrades have kept the fans coming. Hahn said he constantly is looking for ways to bring in new revenue and maximize profits.
"When we acquired the leasehold rights we were going to run this like a business," Hahn said. "It certainly hadn't been run with shrewd business practices. That was one of the things we wanted to bring. Through the 15 to 16 years we ran it as Arena Group 2000, we probably put $5 million to $7 million into the facility, at least. Since 2008, we have put $8 million to $10 million into this building. We knew it would take additional dollars. As things age, they break and need to be replaced."
AEG Facilities Inc. acquired a controlling interest in the 38-acre, city-owned site from Arena Group 2000 in 2008. AEG is a leading worldwide presenter of sports and entertainment. Hahn continues to oversee every aspect of day-to-day operations.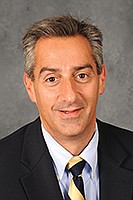 Bob Newman, president of AEG Facilities, said seeing a sports and entertainment venue sustain success for 50 years is very unusual. It can't be done without community support, he added.
"The 50 years of success at the arena in San Diego is due solely to the passion and enthusiasm of the community," he said.
One of the improvements Hahn has overseen is the renovation of the 5,000-square-foot Sports Arena Club. Today it is known as the Stella Artois Lounge. To update signage, he worked with ADTI Media, a local company, to change the marquee on Sports Arena Boulevard and bring in state-of-the-art LED panels.
"We did a deal with Sharp Electronics," he continued. "We have 130 flat screens throughout the outer concourse and entrances which show digital signage and advertising. That was a game changer that led to more revenues."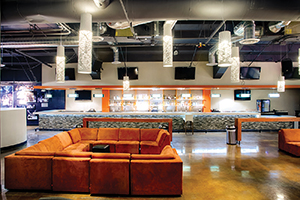 Parking Lot Is Revenue Spot
Hahn said his company identified areas in the inner concourse where it could build premiere boxes and suites for events. The center maximized the use of its parking lot through its ongoing partnership with Kobey's Swap Meet.
"One thing we've continued to work hard on is Kobey's Swap Meet," Hahn said. "It's has been operating here since 1980. That swap meet runs every Friday, Saturday and Sunday. It's a great use of the parking lot and the acreage we have."
In the late 1990s, Hahn and his father Ron, a longtime developer, identified three areas in the parking lot for new commercial leases. Today, they house a gas station and two restaurants.
Turning to the arena's appearance, Hahn has used Vinyl wrap to make the outer concourse "a living museum" by showing photographs of entertainers and sports figures from the arena's past. "The technology allowed us to take an old wall and bring meaning to it," he said.
Recently, Hahn has focused on making sure the dining experience at the arena is pleasing to patrons. Partner AEG brought in Levy Restaurants a little over a year ago to run the concessions, he said.
"The food and beverage experience is really good now," he said. "Like Petco Park, we showcase great local brands."
He said they include such companies as Ruby's Diner, Cali Comfort BBQ, and Pizza Port, among others.
Looking to future, Hahn said his father always envisioned a new arena being built in downtown San Diego. The city owns the land that the Valley View center rests on. The lease is set to expire in May 2020. Hahn and his partners hope to get an extension that will last until a new arena can be built.
Planning Ahead
The details of how and where that might occur have not been worked out, he said. Hahn favors downtown San Diego.
"We view San Diego as good as any market in the world," he said. "A downtown arena would operate 200-plus days a year."
Kris Michell, president and CEO of the nonprofit Downtown San Diego Partnership, said a new arena could be a benefit to downtown.
"I think that is a concept we'd wholeheartedly support, but we have to get into the details, just as we do for every project that we analyze," she said.