Arcturus Therapeutics to Collaborate With Takeda on Therapies for Liver Ailment
Tuesday, December 6, 2016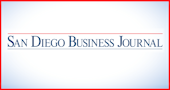 Arcturus Therapeutics, a biotech upstart in San Diego, is collaborating with global pharmaceutical giant Takeda Pharmaceuticals to develop therapies for fatty liver disease.
Specifically, the deal involved developing RNA-based therapeutics for the treatment of Nonalcoholic Steatohepatitis (NASH) and other gastrointestinal disorders.
The duo will use Arcturus' drug delivery platform, called Lunar, and the company's proprietary technology called "unlocked nucleomonomer agent (UNA) oligomer chemistry," which can be used to target any gene in the human genome, as well as viral genes, for therapeutic purposes.
"Given Takeda's long-standing commitment to and expertise in gastrointestinal disorders, we are confident we have found an ideal partner to accelerate and maximize the potential of our Lunar and UNA technology platforms toward the development of novel RNA therapeutics for the treatment of NASH," Pad Chivukula, CSO and COO of Arcturus Therapeutics, said in a statement. "This agreement underscores Arcturus' ability to rapidly discover, design and optimize RNA medicines in areas of unmet need."
Financial terms of the deal were not disclosed.