BITMO SEES DOLLAR SIGNS IN CREATING A PLATFORM THAT CAN UNIFY A VARIETY OF PAYMENT APPS
Mobile Changes Everything
Originally published August 31, 2016 at 2:51 p.m., updated August 31, 2016 at 2:51 p.m.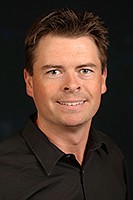 San Diego — J. Michael Smallwood hates his wallet.
"If we could get rid of all the cards in our wallet, the loyalty cards, the cash, everything we do with our wallet and replace that with a smartphone, wouldn't that be a really powerful thing?" he said recently at the Carlsbad office of fintech startup Bitmo, which Smallwood founded last year and heads up as CEO. "What we feel is we can use technology to better solve that problem since we always have our connected smartphones with us at all times."
Smallwood and his team say they're taking the best of the mobile payment applications, from Venmo's social peer-to-peer payment system to the Starbucks app's rewards program, and rolling them into one.
"We're really focused around the overall experience of how people pay and get paid," he said.
"I think we all realize that mobile is here to stay, this ubiquitous device we all carry around, these internet-connected computers in our pocket."
Glacial Pace
The move away from cash started about 20 years ago with the adoption of cards and electric terminals.
But despite the success of that transition, "the changes in the financial industry are — and are likely to always remain — glacial," said a 2014 white paper by Oracle on the future of mobile payments. "As a direct result, the move away from the physical wallet is taking longer than nearly all expert predictions for the future of the market."
And while companies such as CVS Health have recently launched their own apps for mobile payments, Smallwood said he is betting that consumers will soon tire of downloading a new program for each store at which they shop.
"We see this tremendous growth of all of these payment applications to the point where I think in the next year we're going to become really cluttered as consumers with all of these types of payment applications," he said.
One Platform
Bitmo's aim is to get merchants on its platform, allowing consumers to make both peer-to-peer payments — like Venmo, a favorite among millennials, does — as well as purchases at retail stores, like ApplePay does. Social aspects such as messaging will also be a component.
Although adoption may be slower than predicted, the use of mobile payments continues to grow, according to a report last year by the GSMA, a global trade association for mobile operators.
In December, the mobile money industry processed more than 1 billion transactions, the GSMA said.
The trade organization predicted that mobile wallets will evolve from apps that "consolidate payment and financial information" to "solutions that improve the overall customer experience."
That could mean the inclusion of rewards, like the Starbucks app does; loyalty programs; and information about deals or discounts based on detailed information about a shopper's past transactions and location.
"Increasing the perceived and actual value of mobile wallets will drive consumers increasingly towards adoption," GSMA said.
FDIC Insured
When it takes off, Bitmo wants to be ready, Smallwood said.
"Our vision is to say we want to be the universal go-to app for all of this," Smallwood said. "Let's bring it all together into one place where I as a consumer can have control over my finances in a user experience that is familiar to me."
Another way Bitmo is trying to set itself apart from other mobile payment solutions is the fact that Bitmo will hold users' money in FDIC-insured accounts, he said.
This month Bitmo launched a public beta on the App Store. An Android version is slated to become available in fall.
BITMO
CEO: Mike Smallwood
Local employees: 6
Founded: 2015
Funding: $250,000 from family and friends; currently raising a new round from investors
Description: Payments app that incorporates elements of existing programs such as Starbucks, Apple Pay and WhatsApp.