Qualcomm and Boehringer Ingelheim to Work on Digital Tracking Device to Monitor Inhaler Use
Tuesday, August 30, 2016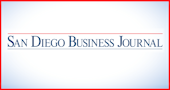 San Diego-based Qualcomm Inc. and Boehringer Ingelheim Pharmaceuticals Inc. announced Aug. 30 that they will jointly develop a small, wireless device to track patients' use of the Connecticut company's Respimat inhaler for patients with chronic obstructive pulmonary disease.
The low-power, disposable product is intended to connect with the 2net Design platform owned by Qualcomm Life Inc., a subsidiary of the wireless communications giant. It is expected to track patients' puffs and report the information to health-care providers and patients who have been prescribed Respimat.
The companies said in a news release that poor adherence to treatment plans is common among COPD patients, and can lead to worsening symptoms, higher health-care costs and possibly death.
Respimat is part of a family of respiratory therapies developed by Boehringer's global parent company, Boehringer Ingelheim Corp., a 47,000-employee pharmaceutical company based in Ingelheim, Germany that posted nearly $16 billion in 2015 sales.
"We are excited to be collaborating with an industry leader like Boehringer Ingelheim to deliver a more seamless digital health experience that can enable their COPD patients to better manage their disease," Qualcomm Life President Rick Valencia said in the release.
The executive director and head of innovation at Boehringer's Connecticut subsidiary, Ruchin Kansal, said his company is proud to join forces with Qualcomm Life to bring new technology to its Respimat inhaler "with the goal of improving adherence to daily medicines that treat symptoms of COPD."