Maritime Museum Debuting Tours of San Salvador Replica
Tuesday, August 30, 2016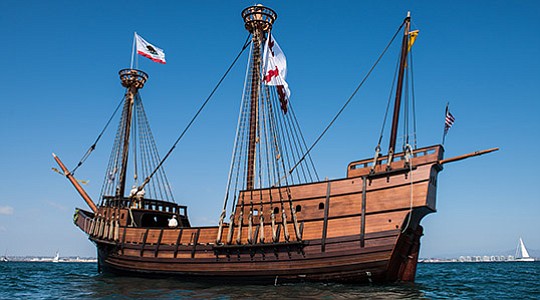 A $6.2 million replica of the ship that first brought explorer Juan Rodriguez Cabrillo to local shores in 1542 is scheduled to make its public debut for tours Sept. 3-5 at the Maritime Museum of San Diego.
The working replica of the San Salvador, completed last year by museum volunteers after five years of donor-funded construction at Spanish Landing Park, will be available for boarding at the museum for the first time, according to a statement from San Diego Tourism Authority.
The debut coincides with the downtown waterfront museum's annual Festival of Sail, billed as the largest tall ship festival on the West Coast. The North Harbor Drive museum will also have onshore exhibits spotlighting the re-creation of the Spanish galleon with full-scale, historically accurate elements.
California coastal tours featuring the ship are slated to begin in mid-September, with anchor stops in Oxnard, Monterey and Morro Bay. According to the museum, the replica of the 16th century galleon stands 60 feet tall and weighs 230 tons.
Museum officials said the replica measures 92 feet long by 24 feet wide, matching Cabrillo's original ship in size. Construction materials came from sites around the world.
Dubbed the "Mayflower of the West," the original San Salvador is believed to have brought Cabrillo, a Portuguese explorer sailing for Spain, to what later became San Diego. Cabrillo anchored the ship at what is now known as Point Loma on Sept. 28, 1542.