Neurocrine Biosciences Files New Drug Application With FDA
Monday, August 29, 2016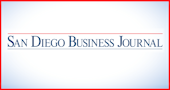 Local biopharma Neurocrine Biosciences Inc. has filed a New Drug Application with the U.S. Food and Drug Administration for its movement disorder drug, valbenazine.
The NDA would allow Neurocrine to start marketing a once-daily dose of valenazine for the treatment of tardive dyskinesia, a neurological disorder characterized by involuntary repetitive movements of the face.
"This is an important milestone in the development of valbenazine for the treatment of tardive dyskinesia, a serious disease for which there is no FDA approved pharmaceutical treatment," said Kevin Gorman, president and CEO of Neurocrine Biosciences in a statement.
The FDA's formal notice of acceptance should happen in October.
Neurocrine (NASDAQ: NBIX), which has a market cap of over $4 billion, develops drugs for diseases with high, unmet medical needs, focusing in on neurological and endocrine-based diseases and disorders.
The company has partnered with pharma giant AbbVie on its other lead product candidate, elagolix, for the treatment of endometriosis in women.