SDCCU Increases Membership 10%
Sunday, August 28, 2016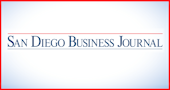 San Diego County Credit Union's assets grew about 1.4 percent in the second quarter reaching nearly $7.6 billion, the credit union said Aug. 25 in an earnings report.
Membership increased about 10 percent compared with the like quarter last year to more than 325,000, and SDCCU's return on assets in the quarter ending June 30 was roughly the same as last year at 1.38 percent.
"It was a solid first half of 2016 with continued progress in performance and growth for SDCCU," said Teresa Halleck, the credit union's president and CEO. "We will continue to remain focused on being a market innovator while strategically managing costs."
The ratio of the credit union's net worth to its assets in the second quarter was 13.83 percent, nearly twice the capital level required by the National Credit Union Administration, which supervises credit unions, for a financial institution to be considered "well-capitalized."
SDCCU, the county's largest local credit union, has 39 branches and 30,000 ATMs.