McCain Inc. Agrees to Sell 100% of Its Shares to Swarco
Sunday, August 28, 2016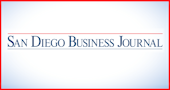 The owner of Vista-based McCain Inc., which makes traffic control equipment for roads and highways, said Aug. 26 that it agreed to sell 100 percent of its shares to Austria-based Swarco.
Terms of the deal were not disclosed. The acquisition is scheduled to close Aug. 31.
McCain makes advanced traffic control equipment, including traffic controllers, cabinets, signals, signs and software.
In a statement, McCain said that it would retain its distinct brand and culture under Swarco. Manfred Swarovski is the Swarco's founder and owner.
Jeffrey and Beth McCain will retain full ownership of Vista-based McCain Manufacturing — including employees, operations, products and services — including contract manufacturing services and all nontraffic McCain-branded products.
Prior to the agreement, McCain had more than 500 employees in the United States and Mexico.