Duffy Named CEO of DEI Holdings Inc.
Sunday, August 28, 2016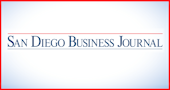 Kevin Duffy has been named CEO of DEI Holdings Inc., the Vista-based holding company for consumer electronics and auto electronics brands such as Polk Audio and Viper.
Previously Duffy was president of Sound United, a DEI subsidiary specializing in personal and home audio. He keeps the president's job and will be CEO of Sound United going forward.
Duffy's promotion, announced Aug. 23, follows the planned retirement of Jim Minarik, who will continue as chairman of DEI's board.
DEI is also parent to Directed Electronics. Directed designs and markets vehicle security and remote-start electronics, taking them to market under names such as Viper, Clifford, Python and Autostart. Directed may be best known as the company that Darrell Issa led before representing northern San Diego County in Congress.
Duffy, 41, began his career with Directed in 2003. He is a graduate of Princeton University who holds an MBA from the Stanford Graduate School of Business.
DEI Holdings is privately held. Charlesbank Capital Partners bought the company in 2011.