ViaSat Gets 2 Pentagon Contracts
Originally published August 25, 2016 at 2:40 p.m., updated August 25, 2016 at 2:40 p.m.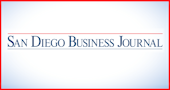 San Diego — The U.S. Navy's satellite network is trusty, but it needs an update. So it has tapped ViaSat Inc. for some help.
ViaSat Inc. said on Aug. 22 that it received a deal from SPAWAR to modernize the network.
The deal could be worth as much as $48.3 million over five years, according to a statement from the Carlsbad company. The Navy may renew the contract for another five years at terms that have yet to be negotiated.
The deal calls for ViaSat (Nasdaq: VSAT) to help support and modernize the U.S. armed services' UHF satellite communications infrastructure, focusing on the control systems and user terminals. On top of that, ViaSat will provide "a path to a modern crypto design for next-generation UHF terminals," according to a statement distributed by the company.
The sole-source contract covers engineering and technical services as well as hardware and software products. ViaSat must wait for the Navy to issue delivery orders under the indefinite delivery, indefinite quantity contract awarded earlier in August.
SPAWAR is the San Diego-based Navy command that buys information technology for the sea service. The name is an abbreviation of Space and Naval Warfare Systems Command.
In other news related to satellite networks, the U.S. Air Force announced on Aug. 11 that it awarded ViaSat a four-year, $33.3 million contract for what it calls a protected tactical service field demonstration. The deal calls for ViaSat to demonstrate the ability to provide wideband anti-jam communications to military clients, using military and commercial satellite communications constellations.
The Space and Missile Systems Center at Los Angeles Air Force Base awarded the contract after receiving five offers.
ViaSat is a $1.4 billion company that offers a mix of satellite products and services for government, business and commercial clients.