JPMorgan Chase & Co. Announces $600,000 Grant to Accion
Thursday, August 25, 2016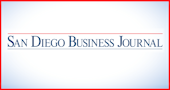 The San Diego branch of global nonprofit microlender Accion will receive a $600,000 grant in two installments from JPMorgan Chase & Co., the organization announced Aug. 25.
The organization, which offers small business loans from $300 to $75,000 in four Southern California counties, said the grant is the largest award it has received from the financial services firm.
The money, to be awarded in two installments of $300,000 this year and in 2017, will be used to increase lending activities and raising additional loan capital in San Diego, Imperial, Riverside and San Bernardino counties, the regions in which Accion offers loans.
"Small business owners have identified flexible capital as a critical resource for growth, but they face a shortage of this kind of support," said Myeisha Peguero Gamino, vice president of corporate responsibility for JPMorgan Chase in Southern California. "Microlenders, like Accion, provide small businesses with the consulting and financing they need to grow their operations."
Accion CEO Elizabeth Schott said the grant comes as the organization is expanding: The organization, active in San Diego County since 1994, expanded its services to Imperial County in 2015 and to Riverside and San Bernardino counties this January.
"This grant will be instrumental in supporting the expansion of our microlending program to the new counties we serve," Schott said. "With these funds, we will be able to build new strategic partnerships, diversify revenue streams, hire new staff and invest in new technology and systems, so that our organization can increase the dollars we loan into the community to the entrepreneurs that need it the most."
Since 1994, Accion has provided more than 3,500 loan totaling more than $26 million in Southern California, according to the organization.