Carlsbad Hilton Garden Inn Gets New Management
Thursday, August 25, 2016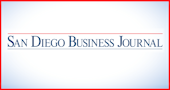 Atlanta-based Davidson Hotels & Resorts was recently named manager of the 161-room Hilton Garden Inn Carlsbad Beach, at 6450 Carlsbad Blvd. Financial and other terms were not disclosed for its management agreement with locally based owner Wave Crest Resorts.
A statement from Davidson said the property has nearly 15,000 square feet of indoor and outdoor function space, an outdoor pool and whirlpool, an on-site fitness center and on-site eatery known as Carlsbad Beach Bistro.
Davidson was also recently awarded the management contract for the 215-room Cape Rey Carlsbad, formerly known as Hilton Carlsbad Oceanfront Resort & Spa. That property was also developed by Encinitas-based Wave Crest, led by owner-partner Bill Canepa.
Davidson and its luxury operating division manage 43 hotels totaling nearly 13,000 rooms nationwide.