CONNECT Launches Investor Syndicate to Fuel Startups
Tuesday, August 23, 2016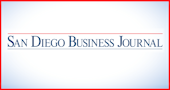 San Diego's business accelerator CONNECT is launching a new investor syndicate to help fund "disruptive" technology and life science startups in San Diego.
The syndicate offers an opportunity for anyone interested in early-stage companies to invest as little as $1,000 to participate with experienced lead investors.
The new syndicate, called San Diego Tech & Life Science Investor Syndicate, is part of CONNECT's mission to create and grow tech-focused companies in San Diego.
The group, which expects to do six deals per year, is already backed by angel investors Steve Taylor, Andy White, and Rod Ullens.
CONNECT launched another program earlier this year called Capital Match, which helps make introductions between investors and qualified, vetted startups in San Diego.