FINANCE: LOSS FOR COMPANY'S FIRST HALF IS $10.2 MILLION
PICO Cuts Down on Losses and Apparently In-Fighting, Too
Originally published August 18, 2016 at 2:55 p.m., updated August 18, 2016 at 2:55 p.m.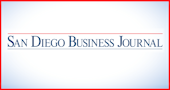 San Diego — La Jolla-based PICO Holdings Inc., a company with interest in water and land rights, reported a net loss of $3.4 million in the second quarter, a significant improvement from the $49.8 million loss the company reported last year in the second quarter.
PICO's losses appear to be leveling off since it settled an incipient fight with shareholders over control of its board, signing deals in March with activist investors to avoid a special vote on its board makeup.
Revenue in the second quarter was $83.7 million, up from $34.1 million during the like quarter last year.
Board Changes
Back in March, investor Leder Holdings said it planned to replace four of the board's seven members. But PICO struck a deal with another investor, Central Square Management, that led to the addition of two new board members and Leder's withdrawal of its call for a vote.
On Aug. 1, PICO said one of its remaining legacy board members, Kenneth J. Slepick, CEO of Virginia-based pharmaceutical company Synthonics Inc., had resigned.
Of today's board, only two, including CEO John Hart, were appointed prior to 2016, according to PICO's website. Via a representative, Hart declined an interview request.
In the first six months of the year, PICO reported a net loss of $10.2 million, compared with a net loss of $66.6 million in the first half of 2015.
However, the company's book value has continued to fall; it was listed at $336 million as of June 30, down from $346 million in December 2015. In September 2013, PICO's book value was $479 million.
Vidler Water Co. and UCP LLC, a subsidiary with water and infrastructure rights in the Southwest and a land developer and homebuilder, respectively, represent nearly all of PICO's equity.
Year-over-year, UCP's net income went up to $1.8 million and homebuilding revenue rose 60 percent to $81.4 million, according to the earnings report released this month.
Vidler, however, "did not have any significant monetizations" during the quarter, the company said.
Positive Note
But in a statement released with the second quarter results, Hart said that could change: Tesla and Panasonic have partnered to build out the "gigafactory," a lithium-ion battery factory, by 2020.
That project, which is east of Reno, plus other signs of increasing economic activity in the region, "should create significant demand for our northern Nevada water resources over the next several years," he said.