Avelas Biosciences Secures $20 Million in Financing Round
Thursday, August 18, 2016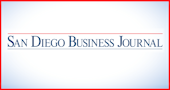 San Diego startup Avelas Biosciences has landed $20 million in a Series C round to develop its fluorescent technologies for cancer treatments.
Pharmstandard International, the Luxembourg-based arm of the Russian pharmaceutical giant Pharmstandard, led the round. This was the firm's first investment in Avelas, and it was joined by two other new backers, Ervington Investments and Alexandria Venture Investments. Previous investors joined the round, including San Diego's Avalon Ventures, WuXi Healthcare Ventures, and Bregua Corp.
Avelas, founded by Avalon Ventures in 2009, plans to use the new funds to advance the company's lead diagnostic agent, AVB-620, for use in breast cancer surgeries. Avelas' method can help differentiate normal tissues from the cancerous ones so a surgeon can more effectively remove a tumor. Its first product is a "cancer illuminator," which carries fluorescent dye into a cancer cell to make tumors easier to see during surgery.
As part of the financing deal, Avelas said Andrei Petrov has joined the company's board of directors. He is the CEO and managing partner at Inbio Ventures, which represented Pharmstandard in the deal. Avalon Ventures founder Kevin Kinsella will step down as a director of the company, along with Nikolay Savchuk of Torrey Pines Investment. Avalon partner Jay Lichter plans to continue serving as Avelas' chairman.