Staffing Agency to Pay $175,000 to Settle Federal Complaint
Originally published August 15, 2016 at 4:08 p.m., updated August 17, 2016 at 1:18 p.m.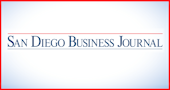 The U.S. Department of Justice announced Monday TEG Staffing Inc., a San Diego-based temporary staffing agency also known as Eastridge Workforce Solutions, has agreed to pay $175,000 in civil penalties and undergo federal monitoring to settle an immigration-related discrimination claim.
The department said TEG's Mira Mesa office had a "pattern or practice" of unlawfully requesting specific immigration documents from non-U.S. citizens applying for work under the Form I-9 and E-Verify processes between at least March 2014 and September of last year.
Meanwhile, the company allowed U.S. citizens to present their choice of valid documents proving their authorization to work in the country, such as a driver's license and an unrestricted Social Security card, the Justice Department said in a news release. It added that all workers, regardless of where they were born, must be afforded that choice under the federal Immigration and Nationality Act.
"Workers who get a job through a staffing agency should not confront unfair and unlawful barriers to joining the workforce and contributing to our economy," Principal Deputy Assistant Attorney General Vanita Gupta, head of the department's Civil Rights Division, said in the release.
Eastridge's president of workforce recruitment, Seth Stein, said by email the company, founded and still owned by immigrants, is proud of its diverse workforce. The notion it would discriminate against immigrants is "inconsistent with the history and founding of our company, and contrary to the spirit and values we have," he wrote.
Stein asserted the government presented no findings the company's process stopped anyone eligible to work in the country from gaining employment or led to any adverse impact, and that there was no evidence Eastridge "ever intended to discriminate on any basis."
"While we would have liked to disprove the DOJ's allegations in court, the DOJ made it clear that the cost of litigating would be substantially more expensive than the cost to settle," he added. "So we made the business decision to settle."
Among the measures TEG agreed to perform are employee training on proper employment eligibility verification procedures and a review of its policies against discrimination.