Seasoned Real Estate Lawyer Joins Withers Bergman as a Partner
Originally published August 15, 2016 at 7:36 a.m., updated August 15, 2016 at 7:36 a.m.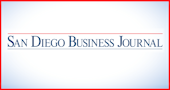 San Diego — Marjorie J. Burchett has joined the San Diego office of Withers Bergman as a partner. Burchett is an experienced real estate lawyer who has worked across major residential, commercial and mixed-use development projects in California for the last 30 years. She joins Withers Bergman from Dentons, and was previously a partner at McKenna Long & Aldridge and Luce, Forward, Hamilton & Scripps.
The firm added to its senior ranks in California earlier this month with the promotion to partner of Rebecca O'Toole, who works out of the Rancho Santa Fe office. O'Toole's practice focuses on estate planning, trust and estate administration and charitable giving.
Burchett's clients include high-net-worth individuals, corporate property investors and developers, and private equity investors. She will focus on the Southern California market, including resort projects and mixed-use hotel/residential projects.
• • •
Thomas Penfield has been elected to the American Board of Trial Advocates (ABOTA), becoming the fifth CaseyGerry partner to join the ranks of the national organization comprised of leading lawyers and judges. Membership to ABOTA — which is committed to the preservation and promotion of the civil jury trial — is by invitation only.
Managing Partner David S. Casey Jr. said the firm is the only plaintiffs firm in San Diego to have five partners who are ABOTA members. Other firm partners who are members include Casey Jr., Frederick Schenk, Thomas Luneau and Robert Francavilla.
• • •
Thorsnes Bartolotta McGuire was honored with the prestigious 2015 Litigator Award for extraordinary achievement within the fields of Commercial Litigation, Eminent Domain, and Personal Injury Litigation.
"Earning a 2015 Litigator Award is a powerful confirmation of superior litigation achievement by our entire firm, providing our clients as well as referring professionals with a strong reason to trust their case to us," said Managing Partner Vincent J. Bartolotta Jr. "Since this award is based on courtroom results, it is an amazing testament to our firm's achievements."
Based strictly on "Verdict and/or Settlement" dollar achievement rather than peer popularity, the Litigator Awards are perhaps the most rigorous and openly judged trial law rating. To be award eligible, nominees must prove achievement in litigation "Performance Benchmarks" as determined by a proprietary statistical algorithm that analyzes a firm's case results.
The firm was also honored for the fifth year in a row by U.S. News & World Report/Best Lawyers Best Law Firm Tier One Metro in five practice categories: Commercial Litigation, Litigation — Construction, Litigation — Real Estate, Mass Tort Litigation/Class Actions — Plaintiffs and Personal Injury Litigation — Plaintiffs.
• • •
Baron & Budd and Gomez Trial Attorneys have launched a joint venture to fight for environmental justice, holding accountable polluters and manufacturers of known pollutants responsible for contaminating water, land, and other natural resources. The joint venture will be headquartered in Solana Beach. The Ecolawyers, as it will be known, is a joint venture that currently represents a number of American cities in three states against Monsanto for PCB water contamination. The two firms represent San Diego, Long Beach, San Jose, Oakland, Berkeley, Portland, Seattle, and Spokane.
The firms also represent clients in two different water contamination cases and wildfire litigation. As global warming increases temperatures, hot conditions will cause wildfires to burn longer, hotter, and more frequently. Heading up the joint venture are lawyers Scott Summy, John Gomez, and John Fiske.
• • •
New Perimeter, DLA Piper's nonprofit affiliate that provides long-term pro bono legal assistance in under-served regions around the world, recently completed a week-long seminar on legal writing and analysis for students at the University of Zambia (UNZA) School of Law.
The project is a collaboration between lawyers from Boehringer Ingelheim (BI), a global pharmaceutical company, and DLA Piper Africa Group firm Chibesakunda & Co. Advocates. Earlier this summer, the team led workshops for 119 students focused on legal writing and research methods, as well as best practices for formulating and supporting a strong legal argument. The interactive program was developed with UNZA based on the needs of their students and included a combination of instruction, practical writing exercises and active class participation.
Richard Bull leads the San Diego Office of the New Perimeter team. As part of its broader commitment to supporting legal education in Africa and around the globe, New Perimeter has delivered similar training courses to law students at the Law School of Tanzania and the Zambia Institute of Advanced Legal Education. The DLA Piper Foundation has also issued grants to UNZA for the purchase of law books and technical equipment. In addition, BI has offered a fully-paid internship for a UNZA student in Europe for the past two years.
• • •
Crosbie Gliner Schiffman Southard & Swanson LLP (CGS3) has opened a new Los Angeles office, spearheaded by firm partner David Swartz. The new offices are located in Santa Monica.
As part of its move into Los Angeles, CGS3 is quickly expanding its new land use practice with the addition of its newest attorney Amy Tsai-Shen, previously with Los Angeles-based Elkins Kalt. In addition to her extensive background in obtaining land use entitlements, Tsai-Shen is a certified public accountant.
Randy Frisch is vice chancellor of business administration at National University and is a former publisher of the San Diego Business Journal. He is licensed to practice law in California, Nevada and Idaho. He can be reached at rcfrisch@msn.com.