Airgain Inc. IPO Closes at $8.30 Per Share on 2nd Day
Monday, August 15, 2016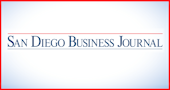 Shares in Airgain Inc. closed up almost 4 percent at $8.30 on Aug. 15 — its second day of trading following the company's $12 million initial public offering.
The Carmel Valley-based wireless antenna maker announced Aug. 12 that it priced 1.5 million shares at $8 per share.
Shares dipped during its first day of trading Friday but gained ground and closed flat at $8.
Northland Capital Markets and Wunderlich underwrote the offering. Airgain (Nasdaq: AIRG) granted its underwriters a 30-day option to buy up to an additional 225,000 shares of stock at the IPO price.
Airgain expects to have $9.8 million to work with (or $11.5 million if the underwriters exercise their options to the fullest extent) after subtracting expenses. The business plans to use its new funds for working capital and general corporate purposes, including sales and marketing, product development and capital expenditures. In a securities filing, Airgain said it might make acquisitions or technology investments, though it said it had no commitments.
Airgain describes itself as a leading provider of embedded antenna technologies used to enable high performance wireless networking across a broad range of home, business and industrial devices. Customers include Actiontec Electronics Inc., Arris Group Inc., Belkin International Inc., DIRECTV LLC, EchoStar Corp., Huawei Technologies Co. Ltd., Pace PLC, Sagemcom SAS and ZTE Corp.
The business has more than 300 antenna products in its portfolio and shipped 87 million antenna products in 2015. The company holds 47 U.S. patents and 22 foreign patents.
In addition to its San Diego facilities, Airgain has locations in Cambridge, U.K.; Taipei, Taiwan; and Suzhou, China.