Connect Is Seeking Life Science Startups for Investment Program CapitalMatch
Sunday, August 14, 2016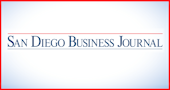 San Diego's early-stage life science companies are invited to apply for CapitalMatch, a program run by San Diego startup accelerator Connect to link companies seeking funding with interested investors.
CapitalMatch events focus alternately on startups in the tech and life sciences sectors; the latest round is specifically for life science firms.
Companies raising capital have until Aug. 21 to apply for a spot at the next CapitalMatch event by filling out an application, available at connect.org.
Via the website, companies interested in being considered by Connect for CapitalMatch must submit an executive summary, an investor deck and a 90-second video of a company founder or CEO describing what the company does.
Companies that are selected will be invited to meet privately on Sept. 8 with potential investors.