Veterans, Millennials Dominate S.D.'s Workforce, Women Lag, Study Finds
Thursday, August 11, 2016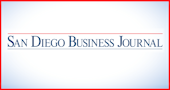 The San Diego area workforce has the highest percentage of millennials and veterans but the lowest percentage of women compared to nine competing metro areas.
That's according to information compiled by the San Diego Regional Chamber of Commerce, via its foundation, as part of its Regional Jobs Strategy launched earlier this year.
The data, called the chamber's Business and Tax Climate Dashboard, compares San Diego to the metropolitan areas of Austin, Boston, Denver, Los Angeles, Portland, Raleigh, San Francisco, San Jose and Seattle.
"Making San Diego a place where business can succeed and grow means we have to identify our strengths as well as our weaknesses," said Jerry Sanders, chamber president and CEO, in a statement Thursday.
Of San Diego's workforce, 28.8 percent were born in 1980 through 1998, more than all the other areas to which it was compared. A total of 7.3 percent of the workforce is made up of veterans, handily beating the metro average of 4.4 percent.
However, likely as a result of the high percentage of veterans in the workforce, a group made up mostly by men, San Diego has the lowest percentage of women in its workforce: 44 percent. The metro average of those areas studied is 46.2 percent.
However, 46.2 percent of businesses in San Diego are owned by women, the data show. Eleven percent are owned by veterans, the dashboard revealed.
"With large millennial and veteran populations in our workforce, we see that we have new talent to build on as well as a highly trained contingent of workers, but we also need to do more to raise the number of women and minorities in our workforce," said Helen Robbins-Meyer, the county of San Diego's chief administrative officer. "Having this data as a point of reference is important to building an effective job creation strategy for the region."
According to the chamber's dashboard, San Diego ranks eighth in education attainment but fourth for STEM and STEM-related majors; fourth in workplace diversity; seventh for highest median wage at $19.12 hourly; and sixth for its 8 percent sales tax on a ranking of the areas with the highest such rate.
Other dashboards to be released in coming months consider economic indicators including affordability and standard of living, the chamber said.
Partnering with the chamber on the Regional Jobs Strategy effort are more than 40 regional organizations, including the county, the city of San Diego and the San Diego Association of Governments.