Small Banks Approved More Loans in July Than Bigger Counterparts
Wednesday, August 10, 2016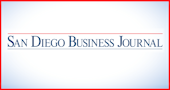 Loan approval by small banks in San Diego rose by 0.2 percent in July while the rates of approval by banks with $10 billion or more in assets and alternative lenders fell 0.3 percent and 0.1 percent, respectively, according to an analysis by Biz2Credit, an online small business lending platform.
Small banks in July gave thumbs up to 41.9 percent of loan applications while big banks approved 23.2 percent.
"The economy in the second quarter was a bit sluggish because of slower global growth; this impacts big banks more than other lenders," said Rohit Arora, Biz2Credit's CEO, in a statement.
The rate at which institutional investors and credit unions in San Diego handed out loans - 62.9 percent and 41.4 percent, respectively - remained the same as in June, Biz2Credit said.
Biz2Credit tracks loan approvals by analyzing hundreds of small business loan applications made via the company's website and releases data monthly.
Across the nation, banks with $10 billion or more in assets were more close-fisted in July than in the month prior, approving loans at a rate of 23.1 percent compared to 23.3 percent, according to Biz2Credit's data.
It was the first time approval rates have gone down at big banks in six months, Biz2Credit said.
Still, the big banks approved loan applications at close to last month's post-recession high of 23.3 percent.
Small banks nationwide approved 48.9 percent of loan applications. The approval rate has been under 50 percent since late 2014; it hit a post-recession high of 51.6 percent twice that year, according to Biz2Credit.
Approvals by credit unions and alternative lenders also decreased in the U.S., both by 0.1 percent, the lender reported. But rates of approval by institutional lenders and small banks went up nationwide by the same amount. The rate at which institutional lenders approved loan applications returned to its all-time high of 62.8 percent; the category was added to Biz2Credit's analysis in January 2014.
The company said it analyzed more than 1,000 small business loan applications to get its nationwide numbers for July.