Kratos Defense & Security Hikes 2016 Revenue Forecast
Monday, August 8, 2016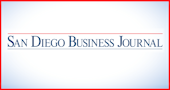 Kratos Defense & Security Solutions Inc. increased its revenue forecast for 2016 by $10 million, to $659 million, when it took the wraps off of its second quarter financial results on Aug. 4.
The business made what it considered a prudent investment during the quarter, spending $900,000 in company money in an effort to develop unmanned aircraft systems. Kratos hopes to benefit someday from the intellectual property it develops.
Also during the quarter, Kratos completed the closure of its Charleston, S.C. marine container plant. It sent work previously done in South Carolina to other facilities.
The San Diego business ended up with a net loss of $10.4 million, or 17 cents per share, in the recently completed quarter, on revenue of $168.2 million. One year ago, the company reported a net loss of $15.0 million, or 27 cents per share, on revenue of $160.5 million.
Adjusted EBITDA amounted to $13.5 million in the recently ended quarter, up from $12.1 million one year ago. Adjusted earnings before interest, taxes, depreciation and amortization (that is, EBITDA) is not part of the standard accounting required by U.S. securities regulators. In Kratos' accounting, adjusted EBITDA includes many other things, among them, acquisition- and restructuring-related items and the investment in unmanned combat systems.
The business reported an $875 million backlog in future work, with $542 million of that funded.
Kratos' second quarter ended June 26.