Investment Firm Rebrands as Gurtin Municipal Bond Management
Monday, August 1, 2016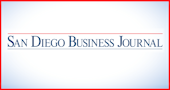 An investment management firm with headquarters in San Diego and Chicago on Monday announced it had changed its name from Gurtin Fixed Income Management LLC to Gurtin Municipal Bond Management.
"This rebranding acknowledges our core business focus and expertise in municipal bond portfolio management," the company said in a statement.
The firm also debuted a new logo and a new website with additional functionality, including the option for prospective clients to create accounts that allow access to Gurtin research and information on the firm's investment strategies.