BORDER REGION PUTS TRANSPORTATION INFRASTRUCTURE IN PLACE TO SUPPORT FREE-FLOWING TRADE, BUSINESS AND COMMUTES
Paving The Way
Originally published April 28, 2016 at 1:35 p.m., updated April 28, 2016 at 1:35 p.m.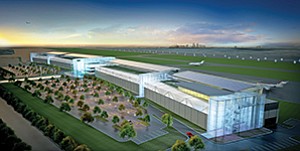 San Diego — Government leaders from both sides of the border recently marked what they said were major milestones impacting the long term-economic viability of the region where Otay Mesa meets Mexico's Baja California.
State and regional officials are counting on more than $1.3 billion worth of infrastructure projects — in various stages of planning, construction and completion — to alleviate chronic border-area traffic congestion, long deemed an impediment to sustained economic progress in the South County area.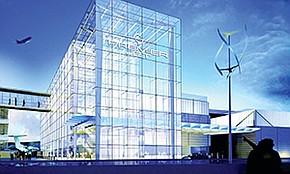 "Completing the border roadway network is one of the best investments we can make as a region, because an efficient transportation system supports the growth of our economy by facilitating trade between California and Baja California," said San Diego County Supervisor Ron Roberts, who also chairs the executive board of the San Diego Association of Governments (SANDAG).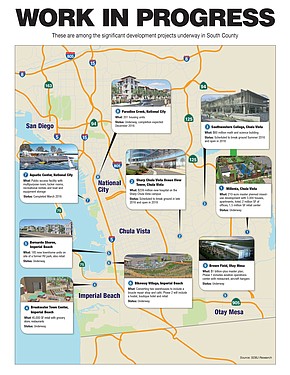 Mexico is California's top export market, and state data indicates that California annually exports more than $25 billion in goods to Mexico — 14.5 percent of California's total exports. SANDAG has estimated that inadequate infrastructure in the border region — seen in the form of clogged roads and border crossing wait times that can span hours — costs the U.S. and Mexican economies more than $7.2 billion in lost economic output annually, along with about 62,000 jobs that might have been generated by that output.
Steering Clear
To address congestion, projects now in the works include a new four-lane highway known as state Route 11, the first $103 million segment of which recently opened in Otay Mesa. It stretches 1.7 miles from state Route 905 to Enrico Fermi Drive.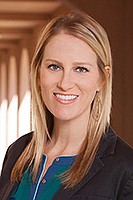 Route 11 will eventually link to a new cross-border port of entry — informally known as "Otay 2" — east of the current border vehicle crossing in Otay Mesa. State and regional officials are forecasting that the tolled highway and new crossing will let truckers and other travelers — willing to pay a fee yet to be finalized — get to and through the border with an estimated wait time of 20 minutes.
Route 11 is deemed particularly important to give trucks departing the existing Otay Mesa Port of Entry easy access to the California highway system, instead of having lots of big rigs clogging local roads to make their way to the freeways.
By the end of 2016, three northbound connectors now under construction — linking Route 905 and Route 11 to Route 125 — are due to be completed. For those traveling south on those same roads, about $50 million in state funding was recently secured for two southbound connectors linking Routes 125 and 905 with Route 11, with design underway and construction slated to begin in 2018.
In the eyes of commercial developers such as Kaitlin Arduino, these changes should eventually make South County more attractive as a streamlined place to do business. Otay Mesa should also become less of a remote place in the minds of corporate executives considering expanding or relocating their companies beyond central San Diego, where available large industrial spaces have been dwindling for the past several years.
"It's 18 miles from downtown San Diego, and now you'll be able to get to the city very easily from the border area by just taking those freeway connectors," said Arduino, partner and executive vice president at San Diego-based Murphy Development.
Demand for Large Spaces
Murphy Development has built several industrial parks in Otay Mesa, and in late 2015 it broke ground on a new $18.3 million speculative building at its Siempre Viva Business Park. It was Otay Mesa's first spec industrial project to be started since 2007.
Arduino said the company is confident that the 121,970-square-foot building will get filled, spurred by several factors. In addition to the improving infrastructure, those include a steadily rebounding manufacturing economy on both sides of the border, dropping industrial vacancy rates in Otay Mesa, and rising leasing activity among tenants seeking big spaces.
She said the Otay Mesa market has seen at least 10 leasing deals completed in the past 18 months for spaces of 80,000 square feet or larger — a significant acceleration from just two or three years ago — as tenants seek out energy-efficient spaces with elements such as 32-foot height clearances, increasingly tough to find for large space users in established industrial markets such as Kearny Mesa and Miramar.
Arduino and other observers said Otay Mesa and other parts of the border region are seeing rising interest from defense firms, tire companies and medical supply companies, among other types of businesses aiming to expand.
The Vacancy Rate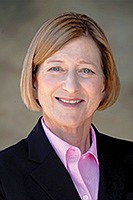 Linda Greenberg, a principal with Lee & Associates who brokers industrial transactions throughout San Diego and South County, said the Otay Mesa industrial vacancy rate at the end of 2016's first quarter — 5.8 percent — was extremely low by historical standards, and well below the 9.9 percent seen at the same point of 2015.
According to CoStar Group, Murphy Development's spec project was the only new industrial building under construction in Otay Mesa at the end of the first quarter. Greenberg said current supply and demand metrics — combined with the recent industrial-friendly infrastructure upgrades — could bode well for new Otay Mesa industrial construction in coming months.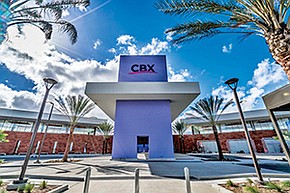 In the bigger picture, she said, things like highway connectors will give residents something that is taken for granted elsewhere in the San Diego region. Navigating through traffic snarls has quality-of-life implications for nontrucker residents who must commute daily — especially to and from the border region — and the issue will be important as more decide on whether to make their home or set up businesses in South County.
"You can get on those connectors and find alternative routes around those traffic messes," Greenberg said.
The U.S. General Services Administration has previously completed — or earmarked funding for — significant reconfigurations of the existing Otay Mesa and San Ysidro vehicle and pedestrian border crossings, both of which are among the world's busiest land ports.
These are among other transportation and business enhancements, in various planning and completion stages, that local and regional officials project could have significant long-term impact on the South County economy.
Bus and Trolley Upgrades: SANDAG, San Diego Metropolitan Transit System, Caltrans and the city of Chula Vista broke ground earlier this year on the $113 million South Bay Rapid project, to include stations and other infrastructure along a new 21-mile bus route running between the Otay Mesa Port of Entry and downtown San Diego. Service is expected to begin in 2018 and is deemed crucial for connecting South County residents to downtown and other regional employment and activity centers.
Last fall, local agencies completed a refurbishment of MTS Trolley Blue Line stations connecting the San Ysidro border crossing to the rest of the region.
Rail Improvements: SANDAG is investing approximately $90 million to upgrade freight rail facilities, with the San Ysidro freight yard and South Line projects expected to double current freight transport capacity between the border and other parts of the region. Slated for a mid-2016 completion, the projects are expected to divert about 31,000 trucks to rail annually by 2030.
South and East County also figure into upcoming privately funded expansions planned by Pacific Imperial Railroad Inc., which is investing significantly in improvements to its southwestern rail lines serving manufacturing facilities in the northern Baja region.
Cross Border Xpress: Opened in December 2015, the privately funded, $120 million passenger bridge and terminal gives ticketed passengers direct access between Otay Mesa and Tijuana International Airport. Observers have deemed CBX important for boosting tourist and business access to international markets served by the Tijuana airport, and the Otay Mesa land adjacent to the facility could eventually see new stores, restaurants, hotels and other businesses serving travelers.
Metropolitan Airpark: At San Diego's Brown Field Municipal Airport in Otay Mesa, a business group that includes local developer Richard Sax is aiming to move forward later this year on the first elements of a multi-phase, mixed-use development expected to include $1 billion in improvements spanning 331 acres. It will include new fixed-based operations, hangars and other facilities geared to small and corporate-owned aircraft, with other future planned elements including hotels, retail and industrial buildings.