CO. GETS GOOD DISTRIBUTOR, LOCKS IN KEY SUPPLIER IN CHINA
Kombucha Brewer May Give 'Healthy Buzz' New Meaning
Originally published April 28, 2016 at 2 p.m., updated April 28, 2016 at 2 p.m.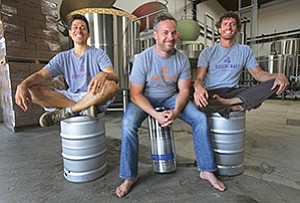 San Diego — Healthy booze is in many ways an oxymoron, but a new craft brewery in Chula Vista says its alcoholic drinks may come with a wholesome upside.
A newcomer to the South County brewing scene, Boochcraft makes a juice-tea product that's as potent as the average craft beer, boasting an IPA-like alcohol by volume of 7 percent. It drinks a bit like an earthy mimosa, bottled and marketed like a craft beer.
Calling the brewery's product "beer," however, may be a stretch, according to Boochcraft co-founder and brew master Andrew Clark.
"It has no gluten, it has no hops, so it's technically not beer," said Clark, 36. "It's a high-alcohol kombucha."
Kombucha, a fermented tea, is today's trendy beverage of choice for the label-reading, yoga-pants-wearing crowd of health-conscious consumers. The beverage has a distinct and almost addictive flavor, and has been touted to aid in digestion, detoxify the body, and generally do good things for gut health.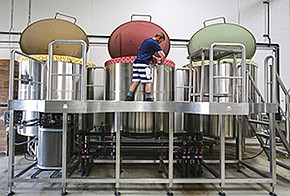 Sales of the fizzy beverage have skyrocketed in recent years, jumping from $128 million in 2009 to $529 million in 2014. At Whole Foods, kombucha occupies one-third of the refrigerated shelf space for functional beverages, drinks that are usually nonalcoholic and claim to provide a health benefit. It's stealing the limelight from other stars of the functional beverage market, like cold-pressed juice, smoothies, and coconut water. Even WalMart has lined its shelves with kombucha brew.
The popular beverage has always contained a small amount of natural alcohol, averaging between 0.5 percent and 1 percent. But as far as Boochcraft's founders know, kombucha with a beer-resembling high-alcohol content has never been sold commercially— until now.
'Happy Hour Meets Yoga Class'
Boochcraft combined the most popular elements of the healthy beverage market into one product: probiotics, organic cold-pressed juices, and herbal tinctures delivered in a boozy 22-ounce bottle.
"It's happy hour meets yoga class," said restaurant critic and food writer Troy Johnson in a recent review.
The appeal of the product is obvious, and it's rapidly being picked up by restaurants, bars and grocers in Southern California. Boochcraft, which is partnered with distributor Stone Brewing Co., is already sold in 200 locations including every Whole Foods in San Diego — quite the feat considering the company only launched its first line of products last month.
"We're very selective, and we like brands that are unique and different, and Boochcraft certainly meets those criteria," said Chad Heath, senior director at Stone Distributing. "It tastes amazing, the blend of the flavors is unique, and they have solid marketing behind them from a branding standpoint."
Prev Next