PHARMA: NEW PAINKILLER AND OTHER DRUGS BEING TESTED
After Weight-Loss, Arena Has Options
Originally published April 28, 2016 at 12:45 p.m., updated April 28, 2016 at 12:45 p.m.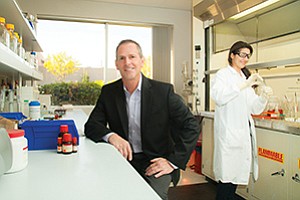 San Diego — It's been a rocky year for Arena Pharmaceuticals Inc., but things are looking up with its latest experimental drug: a painkiller that mimics cannabis without the head high.
Arena could really use the pill.
The past year has been a headache for the pharmaceutical company, as its flagship weight-loss drug Belviq continues to deliver unimpressive sales. Although Belviq is both safe and effective, according to the U.S. Food and Drug Administration (FDA), the weight-loss market is riddled with challenges. There is reluctance among doctors to prescribe weight-loss drugs in the U.S. — a result of being burned by unsafe diet pills in the past and the pervasive belief that diet and exercise is the best prescription for obesity. These attitudes are coupled with reimbursement challenges as insurers rarely cover diet pills.
"Patients just aren't used to paying the full price for their drugs," said Craig Audet, senior vice president of operations and head of global regulatory affairs at Arena. "They're used to a $10 or $15 co-pay. By comparison, Belviq could be up to $75 if you don't have insurance for it."
Arena is not alone in reporting less-than-stellar sales for a diet drug. The company is joined by all of its competitors, including San Diego-based Orexigen Therapeutics Inc., which saw its stock drop 93 percent in the last 12 months.
Disappointed shareholders watched Arena join Orexigen in the fall, with the company's stock slipping nearly 60 percent in 12 months. Matters were made worse when the company asked its longtime CEO, Jack Lief, to retire last fall. Shortly after, the company announced that it was laying off 80 employees — a 35 percent reduction of its staff. Arena downsized from five buildings to four, moving its staff from a shiny high-rise into the more humble offices next door. Times have been tough indeed, but the company is padding its pipeline with promising new therapies, including the latest cannabis-like painkiller.
Synthetic Drug
The drug is code-named APD371 (let's call it 371 for short), and it just passed two human safety trials with promising results.
The drug is being developed for pain relief, and it's designed to tickle a receptor in the body that cannabis also targets. To be clear, Arena's drug is not derived from cannabis. Rather, 371 is a synthetic drug designed in a lab that mimics one of cannabis' effects on the body — pain relief.
"(Our scientists) know what that receptor looks like, so they can make a chemical, a drug, that will get into that receptor pocket and activate it," Audet said.
This is an important distinction, as 371 is not designed to trigger the psychoactive effects of cannabis. In other words, pain relief without the controversy.
The idea behind 371 is appealing: a pain reliever that's not addictive, not psychoactive, and has only minor side effects (nausea and headaches).
"Opioids have abuse potential and unwanted side effects like constipation," Audet said. "And NSAIDs (like Tylenol) have their own issues with gastric bleeding."
Arena hopes to offer a pain reliever with few downsides, a promising prospect in light of the growing epidemic of opioid painkiller abuse in the U.S. (the severity of the crisis has pushed the Obama administration to propose a $1.1 billion initiative to address the prescription opioid and heroin use problem in the U.S.).
This drug could be Arena's foothold into a highly-lucrative industry as an estimated 100 million American adults suffer chronic pain — and the global pain management therapeutics market was estimated to be worth $29 billion in 2010. But Audet says the company is unsure when it can enter the next phase of human trials, let alone when it could reach the market.
Change in Leadership
The company is in a bit of a stalemate, with its leadership shifting yet again. Harry Hixson stepped in as interim CEO when Lief exited last fall, and Arena has been on the hunt for a permanent executive for months. Audet said the company is close to announcing new leadership, and needs to pause on 371 until the new CEO takes charge.
Part of the hesitance to move forward with 371 also has to do with available cash, and where to prioritize Arena's resources, Audet said. The company has two other drug programs in human trials, and those compounds are further along than 371.
One of those programs is for a potential autoimmune drug that may treat ulcerative colitis (inflammation in the digestive tract). The drug is already in Phase 2 trials, and could also be quite lucrative should it reach the market.
The drug, APD334, was found in early clinical trials to lower the level of white blood cells called lymphocytes by up to 69 percent. Lymphocyte reduction has been linked to the effectiveness of autoimmune drugs targeting multiple sclerosis, ulcerative colitis and Crohn's disease.
Arena's APD334 is similar to Ozanimod, the drug San Diego-based Receptos Inc. was developing before it got snatched up by Celgene Corp. last year for $7.2 billion. Celgene has estimated that Ozanimod could bring in as much as $6 billion in annual sales.
Arena expects to get results from its ulcerative colitis program in 2017.
ARENA PHARMACEUTICALS INC.
CEO: Harry Hixson (interim)
Revenue: $38.3 million in 2015; $37 million in 2014
Net loss: $108 million in 2015; $60.5 million in 2014
No. of local employees: 228
Headquarters: Sorrento Valley
Year founded: 1997
Stock symbol and exchange: Nasdaq: ARNA
Company description: Pharmaceutical company with a weight-loss drug on the market and several new therapies in pre-clinical and human trials
Key factors for success: Differentiated assets with high-value potential in the pipeline