SOFTWARE: AGENTS WOULD ASSIST CLIENTS THROUGH CAMERAS, DATA
Inventor Sees Technology as a Guide For Visually Impaired
Originally published April 25, 2016 at 10:13 a.m., updated April 25, 2016 at 10:13 a.m.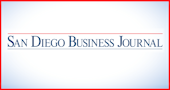 San Diego — Suman Kanuganti is trying to break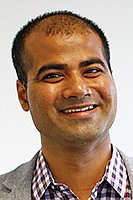 down barriers.
As CEO and co-founder of Aira.io, Kanuganti is developing a service that can help blind people navigate through environments built for sighted people.
Aira (the first syllable is pronounced "eye") helps blind people by leveraging computer and communications technology — and a human touch. It equips a blind client with a video camera and wireless communication device (such as Google Glass) and then pairs that client with a certified agent in a remote call center. The agent guides the blind person through their environment with the help of a video feed and other data about the location.
The company has raised $3.8 million so far and is still deep into testing. The service will launch with some 200 users later this year, Kanuganti said.
The company does not expect revenue until 2017. Aira is part of the EvoNexus pro-bono incubator program in downtown San Diego.
Kanuganti, 34, left a job at Intuit to form the company with Yuja Chang, Aira's vice president of product management, and serial entrepreneur Larry Bock. Bock helped form some of San Diego's first biotechnology companies in the 1980s and 1990s and was a cofounder of Illumina Inc. Bock has limited eyesight, according to a recent article in Xconomy.
In addition to Bock, company investors include Arch Venture Partners, Felicis Ventures and Lux Capital.
The founders count veteran technology industry executives as advisers. They include the man behind the Segway balancing vehicle, Dean Kamen, as well as Uber's cofounder, Oscar Salazar. Also helping are established organizations that help the blind — plus blind celebrities such as mountain climber Erik Weihenmayer and chef Christine Ha.
The original concept for Aira was to emulate a popular automotive concierge service: Aira would be OnStar for the blind.
The system can help people with such tasks as traveling from one place in a city to another.
Much of the help comes from certified agents, who speak in terms relevant to a person with limited or no sight. For example, an agent might estimate the number of steps it will take for the client to go from a trolley stop to a doorway.
The agent's computer screen includes a dashboard aggregating information about the client's location.
Kanuganti plans to rely heavily on online information. A client at a restaurant, for example, could count on menus posted on Yelp.
For now, the company is deep into testing. For example, the company sent blind testers to track down a specific kind of chocolate chip cookies from a certain supermarket's bakery department. They then had to stand in line and pay at the check stand. The experiences of testers using an Aira agent were compared with that from a group that simply relied on supermarket staff (which, Kanuganti said, was not very patient).
Malls can intimidate blind people. Kanuganti showed a video of an Aira agent helping a shopper navigate a shopping complex in West Hollywood. With the help of the camera and bar codes, the agent told the shopper she was handling a medium-sized white T-shirt priced at $29.98.
Aira currently has a small number of agents. When the company rolls out its product later this year, it may get its agents via crowdsourcing, the CEO said.
One of the company's ideas is to hire immobile veterans who still have their sight to work as agents guiding veterans who have lost their sight.
Speaking about the company's long-term business plan, Kanuganti said the human touch may revert more into the background, and the system will rely more on sensor information.
The path to economies of scale, the CEO said, will be to increase the ratio of agents to clients.
The service is technology agnostic. Google Glass may not be the ideal tool for people using the Aira service, Kanuganti said, since 40 percent of the glass' cost goes into the heads-up display — something that is useless to a client who cannot see. Denver-based Pivothead makes glasses with an embedded camera that might be a better fit for the company, the CEO said. In the long run, he added, Aira might end up using custom-made smart glasses.
The Aira service might one day be a boon to individuals. For large organizations that already employ blind people, Kanuganti expressed hope that his service will increase their productivity and potential.
The company's website is Aira.io.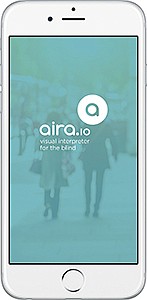 AIRA.IO
CEO: Suman Kanuganti
Revenue: Pre-revenue
No. of local employees: 10
Investors: Arch Venture Partners, Felicis Ventures, Lux Capital, Larry Bock
Headquarters: Downtown
Year founded: 2015
What makes the company innovative: Aira is developing a technology-based service to help blind people navigate and perform tasks in the world