San Diego Region Ranks 9th in the Country for Patents
Tuesday, April 19, 2016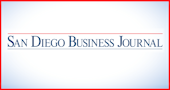 A report from the U.S. Patent and Trademark Office shows that the San Diego region comes in ninth for the number of technology patents granted with over 34,000 patents, among other metropolitan areas from 2000-2013.
The amount of technological intellectual property granted in the region has more than doubled in the last decade, with 4,805 patents awarded in San Diego County in 2013, up from 1,724 patents in 2000. The region had a total of 34,605 patents from 2000-2013.
Topping the list was the San Jose, Sunnyvale and Santa Clara area with a collective 113,962 patents, 12,899 for 2013. Also on the list was the New York, New Jersey, Long Island region, which placed second; the San Francisco, Oakland, Fremont area, which was third; the Los Angeles, Long Beach, Santa Ana region, which ranked fourth; and the Boston, Cambridge, Quincy region, which ranked fifth.