TRAVEL: SIX-YEAR-OLD AIRLINE STILL WAITING TO BE CLEARED FOR TAKEOFF
Holding Pattern
Originally published April 14, 2016 at 12:08 p.m., updated April 14, 2016 at 12:08 p.m.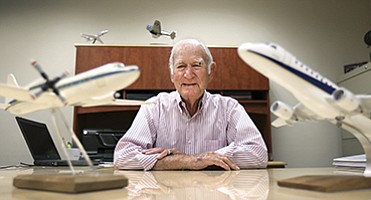 San Diego — At age 95, the founder of the fledgling — though yet to fly — California Pacific Airlines remains adamant that the region needs a North County alternative to the landlocked San Diego International Airport for commercial air service.
"We are looking to foster transportation in San Diego County," said Ted Vallas, a 30-year aviation veteran, of plans in the works by his company since 2010 to offer flights out of Carlsbad's McClellan-Palomar Airport. "We have this catchment (potential customer base) of more than 3 million people."
For the past six years, after spending an estimated $20 million so far, Vallas' startup airline has experienced mostly turbulence in its quest for federal authorization to offer short-haul trips to California and other western U.S. and Mexico destinations.
But as he has done previously, Vallas recently said that he is optimistic about starting commercial flights within the next three or four months.
However, he must still obtain Federal Aviation Administration clearances, and there is the matter of getting operational, environmental and other approvals from county officials who oversee the Carlsbad airport. And even if his venture gets airborne, it faces numerous competitive challenges in a consolidating airline industry that continues to put the squeeze on smaller carriers.
The Carlsbad airport has been without a significant commercial carrier since United Express — a partnership between United Airlines and SkyWest Airlines — discontinued flights to Los Angeles in April 2015. In September 2015, Chicago-based BizAir Shuttle halted flights out of Carlsbad to Los Angeles and Las Vegas, citing lack of passenger demand, less than three months after starting service there.
30-Seat Aircraft
Vallas, a resident of Rancho Santa Fe, said he is undaunted by the challenges, but he has made some changes to his original business plan. Instead of starting out with 70-seat Embraer regional jets — like the one his company had to return to the leasing company three years ago when its FAA application was first delayed — he now plans to debut with up to three smaller, 30-seat aircraft.
Once the carrier is up and running, perhaps six months later, he would add up to four of the 70-seat jets. Vallas said the airline is anticipating an approximate "50-50 mix" of business and recreational travelers, with initial destinations from Carlsbad to include Phoenix, Las Vegas, Oakland, San Jose, Sacramento and later Cabo San Lucas.
The airline would initially employ around 150. At full operation, Vallas said the company — also known informally as CP Air — could employ between 250 and 350. That would include many of those who were furloughed after the certification first got bogged down.
Vallas owns 93 percent of the company and the other investors are private (friends-and-family type of investors). His aviation experience includes operating charter air services, and he is a trained pilot. Before his current venture, he owned and develope d golf courses for several years.
Vallas said he has complied with all FAA requests for information since the application process began six years ago. The federal agency has maintained that the information has not been submitted and updated in a timely manner. The FAA has acknowledged that shortages in manpower, created by federal budget cuts, played a role in slowing evaluation of the prospective airline. The agency's multipart process requires review of areas including employee training and workplace conditions, customer service and security arrangements, and the issuance and wording of safety and maintenance manuals.
"Even if you just change one name in your manuals, everything in your review process needs to be updated," Vallas said.
A federal spokesman said review of the California Pacific Airlines application remains in progress, though the carrier at press time still needed to supply updated information.
"The FAA is continuing to work very closely with the company on the certification process," said Ian Gregor, a spokesman for the FAA's Pacific Division in Los Angeles, in an email. "I cannot speculate how long that process might take."
"I should also add that when we receive a complete and current certification application from CP Air, we will work to assign the required resources to the project," Gregor said.
County Issues
County officials also said that California Pacific needs to update its application to fly out of McClellan-Palomar, though Vallas contended in a recent interview that his company is up-to-date on its obligations to the county.
A letter sent Feb. 10 by the county to California Pacific said county staff determined that an application submitted by the airline on Jan. 22 "still contains multiple deficiencies" and would need to be resubmitted. The letter said the county needs more details on matters including its revised business operations, financial resources, security plans, and other service elements — which need to be included in a project description — that would impact a future environmental review.
County officials said the airline's application review could have a start date of summer 2016, and it will require review under the California Environmental Quality Act. The county anticipates that environmental review by itself will take approximately six to eight months.
San Diego County spokesman Alex Bell said California Pacific, as of April 8, did not have a current or pending revised application with the county. "If they want to add commercial service out of McClellan-Palomar Airport, they would first need to submit a completed application," Bell said in an email.
Bell said county officials are "engaged and actively working to connect with established airlines" to bring commercial service back to the Carlsbad airport.
Small Craft Advisory
Even after the carrier comes to terms with government agencies, there is the issue of competing in a cost-conscious, consolidation-fueled airline industry, in which even the perennially popular regional flyer Virgin America — which uses larger planes than those slated to be deployed by CP Air — recently found it feasible to be acquired by Alaska Airlines.
Bijan Vasigh, a business professor at Embry-Riddle Aeronautical University in Florida, said the post-recession era has seen few if any new commercial carriers approved by federal officials, especially those that use smaller aircraft.
In the increasingly consolidating industry, Vasigh said the larger carriers have become adept at keeping their planes fully filled prior to takeoff, even as air fares have been rising. This gives the big carriers more passengers to help cover the fixed costs associated with takeoffs and landings.
Even with dropping fuel prices, carriers that use smaller craft are hard-pressed to cover those fixed costs, even if they can manage to keep their planes full.
"It's getting more and more challenging to operate a commercial carrier using the smaller planes," Vasigh said. "Providing these shorter routes has become very tricky."
In addition, major and discount carriers have recently been adding to their short-haul regional flights out of San Diego International. Examples include Allegiant's addition of nonstop service between San Diego and Stockton, with plans to add local service to El Paso, Texas; and Alaska Airlines' expansion of daily routes from San Jose to Southern California, including new flights serving San Diego International.
Vallas, who plans to launch CP Air's marketing campaigns in the next few weeks, reiterated his company's goal of providing a cost-effective alternative for local travelers, especially those residing in North County who are currently driving to San Diego International or Orange County to catch flights.
"I think people will be attracted to the idea of not having to put in a lot of time driving before and after a flight," he said.