Award to S.D. Workforce Partnership to Fund Effort to Encourage Private Investment
Thursday, April 14, 2016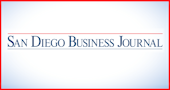 The San Diego Workforce Partnership on Thursday said it had received a $200,000 award to lay the groundwork for a system of attracting private investment in workforce development projects.
The award, from nonprofit Third Sector Capital Partners Inc., will allow SDWP to assess the feasibility of "pay for performance" contracting. Under that system, according to SDWP, private investors can give money to start up a specific program they believe will have better outcomes than current available offerings. If that program's results are independently shown to be more effective, SDWP could use some of its funding to pay back the investor with a "competitive return on investment," according to SDWP vice president and chief program officer Andy Hall.
Hall said pay for performance models can jumpstart new programs in underserved communities that may be too risky for workforce groups to fund outright.


"It shifts the risk and burden of innovation into the private sector," Hall said.
SDWP wants to use the program to improve recidivism rates among juveniles, perhaps by intervening up to six months before their release. The Third Sector Private Capital award is not cash, but will come in the form of technical assistance to determine whether the pay for performance model could work for that goal. It's expected to take about a year.
About 10 percent of certain federal funds SDWP receives can be used in pay for performance programs, meaning it could allocate about $700,000 per year to a privately-initiated youth workforce development program, if current funding levels hold, according to Hall.
Groups in Austin, Boston, Denver and Northern Virginia also received support from Third Sector Capital Partners.