SOFTWARE: SERVICEPAIR APP IN BETA TESTING WITH 400 MOSTLY LOCAL USERS
App Sets Its Sights on Construction Site Labor, Resources
Originally published April 14, 2016 at 12:29 p.m., updated April 14, 2016 at 12:29 p.m.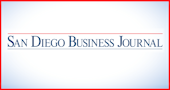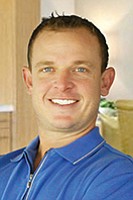 San Diego — Think of ServicePair as a virtual job board for the construction industry.
The free mobile app allows people in the construction industry — contractors, subcontractors, carpenters, electricians, plumbers and designers, among others — to post their work history, job qualifications, availability and salary expectations online. Prospective employers can reference the list to fill job gaps without the hassle of a middleman or staffing agency and they can do so at the drop of a dime.
"I always wanted to figure out how to help improve processes and one of the major broken processes in the industry is resourcing and how to find the right resource for the right job and be able to scale those resources as new jobs come in or scale them back when there's no work," said Chad Arendsen, founder of ServicePair.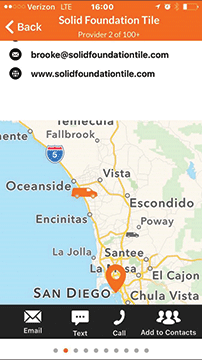 Arendsen, who also owns Chad of All Trades Inc., a home remodeling contracting firm, said his app allows job seekers to profile their specialty and be found by people looking for that specialty.
With the app, contractors or subcontractors can find tradespeople or laborers on demand, doing an advanced search similar to Google within the trade they need, making contact and hiring directly from the app. The app also has location-based services to show the nearest tradespeople and laborers (if their location services are enabled) and to show the nearest supply warehouses.
Generally, designers and contractors look for subcontractors and tradespeople and then subcontractors and tradespeople look for helpers and other skilled tradespeople to supplement the work they're already doing.
"We don't want to be another platform, another company, professing to know what's best for the people that are doing their search," Arendsen, 37, said. "We know that the people doing the searches know their business, they know what they need, and they know how to negotiate the terms of those contracts. We don't need to be a part of that."
After working with someone, users are directed to review their experiences to account for worker performance (timing, cleanliness and quality of work). Anyone can contact anyone else on the platform with a profile.
In using the app, which is also available in Spanish, Arendsen said contractors can make confident hiring selections. They won't have to carry a burden of overhead by employing workers full time and not having enough for them to do.
He said he hopes his app offsets the additional costs in California for liability insurance and workers' compensation, and increases the quality of the product with fewer mistakes, less absenteeism (more efficiency) and less cost to the end user.
Providing a Voice
"We are providing the tradespeople with a medium and platform to profile themselves," Arendsen said. "They could use LinkedIn, but in this industry, they don't. They specifically need a voice but they do not have one."
Currently in its beta-testing stages, the app has about 400 users, mostly in San Diego, with some unsolicited users in Orange County, Los Angeles, Florida and Texas. The company also data aggregated every licensed contractor in California into the app. The current ratio of contractors to tradespeople — aside from the aggregated numbers — is one to 10.
To hit critical mass, Arendsen said the app would need about 5,000 users. Current San Diego companies on the app include Solid Foundation Tile & Stone Inc., North County Plumbing and Cavalier Electric.
Brooke Gowen is president of Solid Foundation Tile and Stone Inc., a residential tile installation contractor. He said he has had the app for about six months.
"If the network becomes big enough and enough people start using it, I see that being a benefit to the industry," Gowen said.
ServicePair moved onto Google Play this January but has been in the Apple App Store since it was founded in 2015.
The Funding
A friend transitioning out of Microsoft, who prefers to remain anonymous, helped with the technology behind the app. So far, the software has been the only cost, a $200,000 bootstrap by Arendsen, who just started a $400,000 fundraising seed round.
Arendsen wants to monetize the app after hitting critical mass with subscription or pay-per-use opportunities and deal strategies with the supply chains (like developing offers or Groupon deals). He wants to avoid paid advertising or pay-for-ranking placements.
SERVICEPAIR
CEO: Chad Arendsen
No. of local employees: 2
Headquarters: San Diego
Year founded: 2015
Company description: Trade service provider for contractors, subcontractors, tradespeople and laborers
Key factors for success: Filling a trade gap by connecting workers through a mobile application